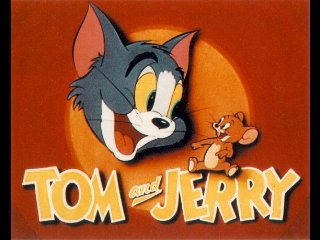 (updated November 18, 2003)





---
Puss Gets The Boot - (9 min. 15 sec.) 1940
Tom paints a phony mousehole and Jerry runs into it, knocking himself out. After reviving, the chase continues until Mammy overhears Tom breaking a vase. She tells Tom if he breaks another thing it's out in the cold for him. Jerry throws a glass in the air and Tom catches it. Jerry then goes wild and throws all kinds of dishes in the air, all of which Tom catches... but he's holding a huge heap of them. Jerry then bathes in Tom's milk and dries himself with Tom's tail. Tom can take no more and hammers Jerry's rear end, letting the dishes fall. Tom is dumped outside while Jerry basks in his glory.
notes:
Tom is really Jasper... Tom was a later substitution
The first appearance of Mammy
Only Rudolf Ising production
Nominated for an Academy Award
----------

The Midnight Snack - (8 min. 15 sec.) 1941

After stealing a chunk of swiss cheese from the frige Jerry tries to go back to his hole only to have Tom start piling all kinds of heavy things on top. Slipping on a rolling pin finaly does Jerry in and he returns the cheese to the icebox. Tom then proceeds to stuff himself after sticking Jerry behind an iron. But when Tom breaks a dish with a piece of cheese, down comes Mammy and a paniced Tom throws Jerry in the frige. Mammy finds Jerry in the fridge, calls Tom, and a chase ensues in which Tom gets bounced from a fork into the sink, onto a grater (ouch!), and finally into the refrigerator with the door slamming shut. When it's opened by Mammy, Tom has eaten tons of food and she chases him out of the house. Jerry finally gets his cheese.

notes:
Music - "Sing Before Breakfast" (Brown)
Hanna, Barbara and Quimby are united as a trio.
----------

The Night Before Christmas - (8 min. 47 sec.) 1941

On Christmas Eve Jerry sees a swiss cheese present on a trap and then plays with his reflection on a Christmas tree ornament. He hops on presents, and a stuffed lion, and then on Tom who after being startled tries to grab Jerry and instead electricutes himself. Jerry gets away on a toy train, hides in a glove box and then hits Tom. The miffed cat wants to tear into Jerry, but the mouse holds up mistletoe and tries to kiss Tom. He then hits Tom on the head and gets chased out the mail slot. Tom then seals it shut! Jerry freezes outside in the snow, and being xmas eve Tom feels pity and goes out to let him in. But Jerry is a frozen corpse so Tom, picking him up by his stickpin tail heats him over the fire. In thanks Jerry pulls a hidden mousetrap from behind Tom's milk bowl. The show ends with Jerry retrieving his swiss cheese present from a trap which was really just a music box.

notes:
nominated for an Academy Award
----------

Fraidy Cat - (8 min. 11 sec.) 1942

Tom gets scared listening to "The Witching Hour" on the radio, so it's time for Jerry to go to work. He rattles window shades and blows around a blouse with a vacuum. Tom thinks it's a ghost and faints! After he revives you see a great scene with the vacuum sucking away all Tom's nine lives with Tom hanging onto a stairpost. After discovering the truth it's the usual chase type stuff until Tom mistakes Mammy for Jerry and attacks her. The finale scenes are Jerry scaring himself with his own reflection.

----------

Dog Trouble - (7 min. 57 sec.) 1942

Starts with Tom chacing Jerry with the mouse catching Tom's tail in a mousetrap. When Tom runs into a bulldog it's he who is now chased, and then Jerry to becomes dogbait. Jerry actually saves Tom from falling into the dog's mouth, but seconds later he needs to be saved by Tom. They handshake a truce and proceed to entangle Butch with a cord and he destroys all the furniture in the House. Mammy throws him out and Tom and Jerry are overjoyed... til Tom snaps his tail on another mousetrap... the pursuit starts again.

notes:
The first appearance of Butch/Spike
----------

Puss 'N' Toots - (7 min. 48 sec.) 1942

This starts with Tom crushing Jerry inside of a glass jar, when Mammy brings in a cute little female kitten whom Tom falls head over heels for. He does a little showing off offering a fish and canary, and hammering Jerry some more. An enraged Jerry pricks Tom's rear and gets him stuck on a record player (remember those?) where, depending on the song, Tom's facial expressions change. Eventually Tom is knocked out cold and jerry, with his testosterone flowing give the cute cat a quick kiss and skoots off to his hole.

notes:
Music - "Sweet and Lovely" (Arnhelm); "Darktown Stutters' Ball" (Brooks); "Horses" (Gay); "Boola Boola" (Hirsh); "Tiger Rag" (La Rocca)
----------

The Bowling Alley-Cat - (8 min.) 1942

Jerry is playing on a bowling lane when Tom appears... Tom eventually gets hurled into an ashtray, covering himself with ashes. The scene shifts to Tom bowling (he has a bit of trouble) and shows him trying to hit Jerry with a series of rolls. Tom gets bowled over himself and Jerry ties his tail into a bowling ball which constantly whacks his body. The ending is Tom being hurled out of the lanes and Jerry marking down his score.

----------

Fine Feathered Friend - (7 min. 43 sec.) 1942

This takes place on a farm with Tom chasing Jerry underneath a big Chicken. Tom tries to grab Jerry but instead grabs an egg and the hen crushes him. He gets caught in a mousetrap and the hen jumps on him and spurs him with a fork (Ouch!). When the chicks hatch Jerry, with a few feathers tied to him, blends in and goes out walking with mom and her babies. Tom tries to catch him, grabs a chick instead, and gets hammered by the hen. He gets a pair of shears and runs after Jerry only to chop up the hen's tail... he inturn is chopped up by the hen. Jerry snuggles up to the hen with his little chick buddies.

notes:
Music - "Horses" (Gay); "Tiger Rag" (Original Dixieland Jazz Band)
----------

Sufferin' Cats! - (7 min. 50 sec.) 1943

Jerry, being chased by a fishing-pole-carrying Tom, runs into another alley cat. The heat rises as the two cats fight over the mouse, who winds up in a Jerry sandwich. After being ejected by smelling pepper, Jerry plays the two cats against each other and then disguises himself with a beard and moustache. He then throws tacks on the ground to slow the cats down but they catch him and threaten to cut him in two and take half each! But Tom wants it all and smacks the alley cat, they battle and then start after Jerry again. The two cats get caught in a door so Jerry, seeing his opportunity, hammers them both with a 1x6.

notes:
Music - "Wonderful One" (Whiteman-Grofe)
----------

The Lonesome Mouse - (8 min. 7 sec.) 1943

When Jerry breaks a vase over Tom's sleeping body, Mammy blames Tom and throws him out. Hoorah! Jerry is finally rid of the cat. He swims in Tom's milk and on Tom's bed (where his face is painted) Jerry draws a hitler moustache and hair... he then spits on it. Then he rips Tom's bed apart but realizes... he's bored silly without his foil.When he goes outside to see Tom, Mammy sees him and screams for Tom. Jerry and Tom then pretend to chase and crush each other with forks and knives and cleavers... the whole house is wrecked but Tom fools the maid into thinking Jerry is gone. She then feeds Tom but Jerry comes in and eats Tom's food so... he chases Jerry away. The end is when Jerry mashes Tom's face into his own food.

notes:
Music - "Happy Days Are Here Again" (Ager); Ach Du Lieber Augustin" (arr.Scott Bradley); "I Cried For You" (Freed et al.); "How About You" (Lane-Freed); "Sing Before Breakfast Drums" (Brown-Freed)
If you look closely, Tom is a little less hairy in this cartoon.
----------

The Yankee Doodle Mouse - (7 min. 23 sec.) 1943

This great (but pretty violent) feature has Jerry in his hole (a cat shelter) being attacked by Tom. There's a volley of egg grenades, champaign corks and light bulbs dropped from paper planes. Tom gets sanded with a cheese grater attached to a skate and Jerry gets shot out of the sky with a firecracker, who uses a brassiere like a parachute to float to the ground. They go on a firecracker frenzy with Tom getting the brunt of the damage until he finally tries to tie Jerry to a mego-skyrocket-firecracker. But Tom err's and it is he who gets tied on, with the film's finale being Tom exploding into a giant American Flag.

notes:
Music - "Over There" (Cohan); "Anchors Away" (Zimmerman)
Academy Award winner for 1943
The film is reused in "Jerry's Diary" and "Shutter Bugged Cat" the later from 1967. Yech!
----------

Baby Puss - (7 min. 51 sec.) 1943

Tom is being babied by a little girl. She wedges a bottle in his mouth... the spiel. Jerry laughs and makes fun till Tom starts to chase him. He runs into his dollhouse and fakes like he's in the shower... he screams when Tom looks at him. Jerry then dresses like a doll and walks out of the house, fooling Tom for a second or two,. When Tom discovers the truth he crushes the dollhouse 'till the little girl returns again. Jerry then makes sure 3 alley cats see Tom and they join in making fun of him by puting him in a diaper, powdering him and singing. The little girl again returns and gives Tom castor oil... he runs to heave his guts... Jerry laughs but he too gets castor oil and runs off to heave.

notes:
Music - "You Must Have Been A Beautiful Baby" (Warren); "How About You" (Lane-Freed); "Baby Face" (Davis-Akst); "Mama, Yo Quiero (Jaraica-Paiva)
----------

The Zoot Cat - (7 min. 3 sec.) 1944

Jerry is given as a gift, by Tom, to his female cat friend. But the young cat rejects Tom,s gift...I guess Tom is considered a bit of a square. He overhears the radio talking about a Zoot Suit so he cuts out a costume, really starts to swing, and completely seduces the young thing...he talks like Charles Boyer. Jerry then puts a heap of matches between Tom's toes and then starts to dance with tom's girl. Tom gets sucked up a window and thrown into a fishbowl where his suit shrinks to Jerry size. Zoot Mouse!

notes:
Music - "You Gotta See Mommy Every Night" (Rose-Conrad); "Honey" (Gillespie); "I'm A Ding Dong Daddy" (Baxter); "Elmer's Tune" (Albrecht); "Tha Chase" (Bradley); "Jersey Bounce" (Plater); "China Boy" (Boutelle-Winfrey); "Deep Purple" (Derose)
Irv Spence work especially on the jitterbug sequence
----------

The Million Dollar Cat - (7 min. 10 sec.) 1944

Tom inherits one million dollars... the catch... he mustn't harm any living thing... even a mouse! He moves to 1 Park ave and Jerry is at 1/2 Park ave. This one is just continuous Jerry provoking Tom until he can't stand it anymore. He gets in Tom's cab, eats Tom's Jello and pulls Tom's cumberbun many times. Tom starts a fire and gets Jerry to jump out a window but Jerry survives and devoures all of Tom's breakfast. After pushing Tom out of his own bed he really starts the hammering until Tom blows his stack. Thomas actually talks in this one saying "I've thrown a million dollars to the wind... but I'm happy" as he starts to crush Jerry with everything he can grab.

notes:
Music - "Boola Boola" (Hirsh); "Broadway Rhythm" (Brown); "Day Break" (Grofe); "Sing Before Breakfast" (Brown); "Sleepy Time Gal" (Whiting); "Thank You For A Loving Evening" (McHugh); "Happy Days Are Here Again" (Ager)
----------

The Bodyguard - (7 min. 21 sec.) 1944

Jerry rescues Spike (the bulldog) from the dog catcher and is rewarded by the dog telling him to whistle if he ever needs help. Continuous fun with Jerry whistling and Tom getting crushed! Jerry gets some gum from Tom and can't whistle so he blows and blows and blows the biggest bubble you ever saw. Tom digs his own grave until he realizes Spike isn't coming... where is he? He got caught be the dog catcher again. Tom takes off after Jerry.

notes:
Music - "I'm Sitting On Top Of The World" (Henderson); "Darktown Strutters' Ball" (Brooks); "Spreadin' Rhythm Around" (McHugh); "You're A Sweetheart" (McHugh)
----------

Puttin' On The Dog - (7 min. 2 sec.) 1944

While chasing Jerry, Tom winds up in a dog pound. This one has Tom wearing a fake Dog mask and his trials and tribulations inside the pound. He gets crushed under a St. Bernard and then jumps into a barrel where Jerry is also sitting. In a finale confrontation Jerry hold up a sign for Spike to see "Yes Stupid... It's A Cat". In the end, having been exposed by Jerry, Tom winds up on top of a flagpole mast with the dogs surrounding him.

notes:
Music - "Running Wild" (Gibbs)
----------

Mouse Trouble - (7 min. 21 sec.) 1944

Imho the most violent of the series (I loved it!) Tom gets a book on "How to Trap a Mouse" and goes through all the chapters in trying to catch Jerry. Tom gets caught in a mouse trap, punched in the eye, beat up by a cornered mouse, has his ear drums blown out by a stethoscope, has the top of his head shot off with a shotgun, beartrapped on his rear, hit with a mallet, pierced with needles, sawed in half, he swallows a mechanical mouse that says "Come up and see me sometime", and finally is blown to bits by dynamite. Not for the faint of heart.

note:
Music - All God's Chillun Got Rhythm" (Kaper-Jurmann); "Lord And Lady Gate" (Raye-De Paul)
Won the Oscar for 1944
Original titles "Cat Nipped" & "Kitty Foiled"
Reused in "Jerry's Diary"
----------

The Mouse Comes To Dinner - (7 min. 18 sec.) 1945

Jerry starts to eat food set out by Mammy until Tom hammers him on the head. Tom and his girlfriend then start to eat with Jerry as a waiter. Jerry spits in his face...Tom heats him in a spoon...Jerry makes him eat his own tail...Tom uses Jerry as a corkscrew. Tom gets hit by the female cat for coming on too strong and then he gets hit by pies and set on fire. Tom eventually gets christened as the "S.S.Drip" and sinks into a bowl of punch.

notes:
Music - "Screwy Truant" (Bradley); "I Got It Bad" (Ellington); "You Were Meant For Me" (Brown); "Little Jerry Mouse" (Bradley); "Sweet And Lovely" (Arnheim); "Don't Get Around Much Anymore" (Ellington); "Anchors Aweigh" (Zimmerman)
Original Title "Mouse To Dinner"
Reused in "Smitten Kitten"
----------

Mouse In Manhattan - (8 min. 6 sec.) 1945

Jerry's tired of country life so he leaves a note for Thomas that he's going to try his luck in the big city. When he arrives at the train station he gets stuck in gum and hurts his neck looking at tall buildings. He then falls into a storm drain and is practically run over by the traffic. Jerry makes his way to a nightclub and has some fun for a bit.... until a champaign cork shoots him into an outside puddle where some huge, really vicious looking cats chase him. He breaks the window of a jewlry store and the police arrive firing bullets and chasing Jerry into the subway tunnel. He runs all the way back home to Tom and relative safety, tearing up his note into little pieces.

note:
Music - "Manhattan Serenade" (Alter); "Broadway Rhythm" (Brown)
Title was originally "Manhattan Serenade"
----------

Tee For Two - (7 min.) 1945

Golf is the name of the game! Tom is a hideous golfer and Jerry is his tee. Tom gets hit in the teeth with golfball and is buried by a number of balls that fall from a tree. This episode also has Tom attacked by a baby woodpecker and a swarm of bees, which he tries to hide from in one of the lake hazards. He breaths through a reed but Jerry puts a funnel in the reed and the bees swarm into Tom's mouth. The final scene is Jerry Knocking Tom out with a golf ball.

notes:
Music - "Hoe Down" (Edens); "Shorter Than Me" (De Paul); "Spreadin' The Rhythm Around" (McHugh); "All God's Chillun Got Rhythm" (Kaper-Jurmann)
Reused in "Jerry's Diary"
----------

Flirty Birdy - (7 min. 13 sec.) 1945

Thomas is ready to munch a Jerry sandwich when an eagle comes by and takes it away. Jerry goes back and forth in this one until Tom dresses up as a female eagle to get Jerry back. The eagle goes goo-goo over Tom and gets kissed by suction cup/plunger. There is a lot of hammering. Mr eagle finally offers Jerry as a wedding ring and ,after Jerry ties him up, Tom is carried off to the nest to hatch eggs and knit.

notes:
Music - "St. Louis Blues" (Handy); "You're A Sweetheart" (McHugh); "My Blue Heaven" (Donaldson)
Original title "Love Boids"
----------

Quiet Please! - (7 min. 43 sec.) 1945

The cat and mouse awaken Spike who tells Tom "No More Noise!" or there'll be hell to pay. Jerry sees his chance and fires a gun at Tom... he sticks his finger in the barrel. Jerry heaves clocks and lightbulbs but Tom manages to avoid waking up the dog 'till he slips on roller skates and has to rock Spike back to sleep. Tom gets hit by a pie and silences Jerry's drumming but is unsuccessful in stopping a stick of dynamite from blowing up right under Spike! The finale scene is beaten-up Tom rocking Spike in a cradle.... with Jerry inside.

notes:
Music - "I'm Sorry I Made You Cry" (Clesi)
Won the Academy Award in 1945
----------

Springtime For Thomas - (7 min. 37 sec.) 1946

Love is in the air... Tom is enamored with a white female and totally ignores Jerry (he even kisses him). Jerry, with his devil-conscience, send a phoney love letter to the neighbor cat who comes to claim his girl. They proceed to crush each other (with Jerry's help of course) with Tom being turned into a croquet ball and hit with a mallet. He finally loses and, giving up on women, has fun chasing Jerry all over the place...but... this soon ends as Jerry suddenly is cupid struck by a little brown girl mouse. Oh well.

notes:
Music - "Here Comes The Sun" (Woods); "Lovely Lady" (McHugh); "Over The Rainbow" (Arlen-Harburg); "Darktown Strutter's Ball" (Brooks); "Sweet And Lovely" (Arnheim); "Honey" (Gillespie)
----------

The Milky Waif - (7 min. 58 sec.) 1946

Jerry takes in an abandoned baby named Nibbles ('cause he's always hungry) and the fun begins. He goes after Tom's milk... Jery saves him once, but he goes back and yanks Tom's whiskers. Tom eats him but Jerry intervenes... Tom tries to suck Nibbles through a straw and Jerry saves him again but gets cought himself. Nibbles hit Tom with a hammer. This kind of stuff keeps happening until Tom hits Nibbles with a fly swatter. Jerry goes ballistic, growing to monster size and scares Tom to death. Then Tom has to actually feed Nibbles himself.

notes:
Music - "I'll See You In My Dreams" (Jones); "I'm Nobody's Baby" (Davis)
First Nibbles episode
----------

Trap Happy - (7 min. 8 sec.) 1946

Tom gives up and calls the Ajax Exterminatin' Company to help catch Jerry. This black cat instantly catches Jerry by painting a bolt the color of cheese, which Jerry eats, and using a magnet to snag him. But instead of chopping up Jerry he chops Tom's tail. They try gasing the mouse and Tom knocks out the black cat. They try a bomb but somehow it winds up on the exterminator's head when it goes off. They plan to shoot Jerry but instead shoot themselves, and then proceed to tear up the house. The black cat gets hammered again (from what he believes is Tom's ineptitude) so he bacomes a cat exterminator and chases after Thomas with a gun.

notes:

----------

Solid Serenade - (7 min. 21 sec.) 1946

Killer (Spike) stands in the way of Tom's love life, so the cat knocks him out and sings and plays a cello for his lady love. But it wakes up Jerry who throws a Pie (with an iron inside) at Tom's head, and drops a window on his neck. Jerry wakes up Killer and he chases Tom in a circular pattern, with Tom stopping every few seconds to kiss his love. Killer then removes the white female and Tom kisses him instead... Tom mashes the dog! Tom finally traps Jerry in a doghouse but Killer is in there also it's the end for Tom... he even writes out his will. The finale scene is Jerry playing the cello for the sweet young white cat... the strings of which are made of Tom's whiskers.

notes:
Music - "Milkman Keep These Bottles Quiet" (Raye-De Paul); "Is You Is Or Is You Ain't My Baby?" (Austin-Jordan); "You Were Meant For Me" (Brown-Fain)
Reused in "Jerry's Diary" , "Smitten Kitten" , and "Smarty Cat"
Thomas uses his Charles Boyer voice again
----------

Cat Fishin' - (7 min. 54 sec.) 1947

Tom goes fishing but he has to slip by Spike to get to the pier. Jerry is the lure but he stops when he finds out the water is freezing. Tom forces him in and Jerry barely escape a shark-like fish. Tom is angry and dresses Jerry as a worm and throws him back in. Again the shrk chases him, this time near Tom, and the cat swings an oar at the Shark... he hits Jerry instead. A mad Jerry puts a lure on Tom's tail and the shark bites it... he's thrown toward Spike who wakes and chases Tom but falls in the lake instead. Jerry hooks Tom's line on Spike's collar and he's pulled through all sorts of obstacles (this is really funny, especially when the dog is pulled through two rocks). The end has Tom hanging onto a fishing line with Jerry holding the pole and Spike leaping to eat Tom.

notes:
Music - Trolley Song" (Martin Blane)
Reused in "Life With Tom" and "Smarty Cat"
----------

Part Time Pal - (7 min. 50 sec.) 1947

Mammy warns Tom that he's OUT if the refrigerator is gotten into by a mouse. Tom guards it but he then falls into a cider barrel... he goes wild! Tom empties the fridge himself, getting turkey and cake all over the kitchen. Mammy runs downstairs but Jerry hides Tom. Jerry then stops Tom from kicking Mammy and lighting her on fire. Thomas then drinks rum and pours water on Mammy while she's sleeping. The house gets wrecked and even after dark the black maid is seen chasing Tom down the street.

notes:
Music - "Milkman, Keep These Bottles Quite" (Raye-De Paul)
Original title was "Fair Weathered Friend"
----------

The Cat Conterto - (7 min. 49 sec.) 1947

Just Brilliant! Tom is a concert pianist and Jerry is asleep on the hammers of a grand piano. After being jolted awake Jerry is content to listen to Tom play but tom will have none of that and he finger-flicks him, crushes him under akey and then hits his skull with a tuning wrench. Jerry, quite upset, slams the key lid on Tom's fingers, tries to cut off Tom's fingers with a pair of scissors, and catches him in a mousetrap. Jerry raises the piano bench to a great height before Tom grabs him, shoves him between the hammers and beats the living daylights out of him. I laugh every time I see it. Jerry finally starts playing from inside and Tom tries to keep up... Tom finally falling exhausted on top of the piano.

notes:
Music - "Credits" (Chopin arr. Bradley); "The Cat's Concerto" (Liszt arr. Bradley); "On The Atchison, Topeka, And The Santa Fe" (Warren-Mercer)
Won the Oscar for 1947
I can't say enough about this one. A masterpiece!
----------

Dr. Jekyll And Mr. Mouse - (7 min. 24 sec.) 1947

Everywhere Tom hides his milk Jerry gets to it, even inside a safe. So Tom makes a mixture of death (it even melts a spoon and kills a fly instantly). Jerry drinks it but instead of croaking he gets bigger and mean! He yanks Tom out of a safe and hits him but then shrinks back to mouse size. This happens a few times...Jerry drinks the stuff, beats Tom, then shrinks back to normal... until the stuff runs out. So Jerry quickly makes some mixture of his own but Tom grabs it just as Jerry is about to drink... Tom drinks instead... and Grows HUGE! And then instantly shrinks to less then half Jerry's size. The end has Jerry chasing Tom with a fly swatter.

notes:
Nominated for anAcademy Award
----------

Salt Water Tabby - (7 min. 16 sec.) 1947

We're at the beach and Tom meets a white kitty and shows off by eating her hotdog. Jeryy is eating food in her picnic basket and then bites the cat. Tom gets closed up in the beach umbrella and is constantly harrassed by a large crab. He chases Jerry some more and sits down to eat but, Jerry inserts oysters in the sandwich (which breaks Tom's teeth) and makes Tom pour salt in his coffee. Tom again gets caught in the umbrella but Jerry gets stuck in a coke bottle, which Tom shakes and fires Jerry into a post. Jerry then puts a wig on the post (which is in the water) and crys help... Tom of course dives into the post and crushes his skull. Finally Jerry rams an inflatable horse down his throat (inflating Tom) and Tom gets blown into a ditch as Jerry floats away in a picnic basket.

notes:
Music - "Here's To The Girls" (Edens)
Reused in "Smitten Kitten"
----------

A Mouse In The House - (7 min. 49 sec.) 1947

Jerry's been into everything and Mammy has had it! She tells Butch and Tom that the one who catches the mouse stays and the other is out. They declare war on Jerry and each other. Jerry hits them with a log but they catch him and then decide to have a duel in which they shoot each other. They trap Jerry in an oven and turn on the gas... but they get blown up when Jerry lights a match. They box each other before Tom dresses as the maid and Butch hands him Jerry. Then Butch dresses as the maid and Tom hands him Jerry. Finally the real Mammy comes in and they mistake her for each other and hit her repeatedly on the behind. She hammers them both (off screen) and throws 'em out.... and then gets Jerry to leave also.

notes:
Music - "Part Time Pal" (Bradley); and "Shortin' Bread" (trad.)
----------

The Invisible Mouse - (8 min. 42 sec.) 1947

Jerry and Tom are batlling when Jerry hits Tom with an iron and a cuckoo clock and then starts breaking plates over Tom's head. Ooch! The mouse leaps into a bottle of invisible ink with predictable results. Tom gets electrocuted and then watches his milk disappear and get spit in his face. Totally cluless, Tom lays down and then has matches stuck between his toes by Jerry... who then lights them and watches Tom's foot burn up. But... Tom see's Jerry's shadow (as he's eating) and spreads flour all around. Tom hits jerry with a book but in turn gets wopped by a golf club. The mouse then hits Spike who, of course, blames Tom and chases him out of Jerry's hair. Jerry does become visible in the end when he sits down and drinks Tom's milk.

notes:
Music - "Here's to The Girls" (Edens)
----------

Kitty Foiled - (7 min. 20 sec.) 1948

Tom is after Jerry (again) and finally has him when the house canary hits Tom. Tom then help the canary by rolling Tom up in the window blind. When the coast is clear the canary heads back to his cage only to be swallowed by Tom. Jerry to the rescue... he lifts up a floor slat and pinches Tom's tail. Jerry and the canary dress up as indian and papoose which works for a second but eventually Tom corners the canary... who has a gun! Tom laughs but Jerry drops a lightbulb and Tom thinks he's done for. This is a great scene with a parody of "Scarface" starring George Raft. After recovering, Tom gets hold of Jerry again and ties him to a toy train track. He gets on the engine and plans to run Jerry over (the look on Tom's face is great), but just before he hits Jerry the canary picks up a bowling ball and drops it just in front... causing Tom to fall through the floor. Last scene is Jerry and the canary singing "My Blue Heaven."

notes:
Music - "Here's To The Girls" (Edens); "My Blue Heaven" (Donaldson)
Reused in "Life With Tom"
----------

The Truce Hurts - (8 min. 59 sec.) 1948

Tom, Jerry and Butch are smacking each other with pipes and pans when Butch proposes a truce. They all sign it and everything works out great. You see them sleeping and eating together. And they protect each other too! Jerry gets grabbed by an alley cat and Tom hammers his face with an ash-can lid. Then Tom gets cought by a large dog and butch beats him up.Yes all is going well... that is till a passing meat truck drops a HUGH steak in the middle of the road... and the three have to divide it. They draw lines on it but each keeps erasing the lines so that his share is biggest. They start fighting and Jerry takes the whole thing when it falls into the gutter and floats away into a drain. That's It! Butch tears up the treaty and it's back to our opening scene again.

notes:
Music - "Happy Days Are Here Again" (Ager); "Running Wild" (Gibbs); "Sleepy Head" (Donaldson); "Sing Before Breakfast" (Brown); "Over The Rainbow" (Arlen); "Worry Song" (Fain); We're Off To See The Wizard" (Arlen)
----------

Old Rockin' Chair Tom - (7 min. 39 sec.) 1948

Mammy is being harrassed by Jerry so in rushes Tom... Jerry trips him, hits him with an ironing board and finally dumps Tom and Mammy down into the cellar. So Mammy brings in "Lightening"... an orange tabby that, before you can blink, boots Jerry out the door. He then raids the icebox, plants evidence on Tom, and gets Tom booted out. A truce between our pair hatches a scheme that drops an iron in Lightening's gut and, using a big magnet, they drag him all over the house... wrecking it and hammering him. Jerry then terrorizes Mammy again and he lets Tom throw him out. The two get to share a custard pie in the end.

notes:
Music - "Spreadin' Rhythm Around" (Mc Hugh); "Trolley Song" (Martin-Blane); "I'm Sitting On Top Of The World" (Henderson)
----------

Professor Tom - (7 min. 47 sec.) 1948

Tom tries to teach a young sorta sleepy looking cat how to catch mice. An unwilling pupil, the cat sets out but Jerry gets the better of him sends the cat through the shower wall. Tom runs after the mouse with a few running gags and when Tom returns to class, Jerry is teaching the young cat how to peacfully co-exist. Tom gives the young cat a vase...he gives it to Jerry who smashes Tom. At one point Tom tries to smoke Jerry out of his hole with a cigar...with green face results. tom gets his tail broken, locked outside and finally stuck in a mailbox. The young cat looks at Jerry , then Tom, and hits Tom with a baseball bat.... he leaves with his mouse pal to "We're off to see the Wizard" music.

notes:
Music - "We're Off To See The Wizard" (Arlen)
----------

Mouse Cleaning - (7 min. 47 sec.) 1948

Mammy has just cleaned the house when in run Tom and Jerry in full battle. There is dirt everywhere! An ultimtum: "If I find one speck of dirt ther is going to be one less cat here!" She goes to the store and the stage is set. Jerry throws ash on the floor and a tomato gets splatted on the wall. When Tom tries to clean it, Jerry puts ink into the bucket which makes the wall worse! Eggs get juggles and pies thrown... even a horse is brought inside. When Tom falls asleep Jerry inks his paws and upon waking, Tom puts his paw prints everywhere. When Jerry gets the coal delivered in the parlor instead of the cellar the maid returns and is buried by a flood of coal..... the last scene is Tom getting knocked out by a piece of coal thrown by Mammy.

----------

Polka-Dot Puss - (7 min. 2 sec.) 1949

Tom is using Jerry as a yo-yo... when it's time to put the cat out. He fakes a sneeze (it is quit cold out outside) and Mammy lets him sleep inside. Jerry then paints dots all over Tom and when he wakes he's got the measles. Jerry then gets to play doctor... Tom gets knee hammered, covered in ice cubes and put in the fridge, roasted in an oven and cooled off in a shower to no avail but, the spots have washed off! Furious he chases after Jerry with a sword when suddenly... boop...boop, boop, boop... little dots start forming on Jerry. He really does have the measles! tom takes all kinds of stuff to prevent his own outbreak... but it's too late, and they both wind up sick.

----------

The Little Orphan - (7 min. 50 sec.) 1949

Jerry invites a little orphan mouse "Nibbles" to a Thanksgiving dinner. Nibbles is ALWAYS hungry! He drinks Tom's milk, climbs on the fully decorated (by Mammy) table with the help of a noodle (which he eats) and starts devouring everything in sight! Jerry tries to stop him but he eats pies and candles and a large orange whole... he looks like a blimp till Jerry squishes it out of him, when it proceeds to hit Tom. The cat disguises himself as an indian and attacks, but gets hit with chanpaign and stuck with a fork. There are arrows flying and knife choping before Tom gets thrown out of the house by Nibbles and surrenders. The end is Tom and Jerry and Nibbles siting down to feast...with Nibbles eating everything before Tom and jerry can taste it.

notes:
Music - "Throw Another Log On The Fire" (Tobias-Scholl-Mencher)
Won the Oscar for 1949
Remade in Cinemascope as "Feedin' The Kiddie"
Some shots reused in "Life With Tom"
----------

Hatch Up Your Troubles - (7 min. 50 sec.) 1949

A woodpecker egg falls and rolls against Jerry's door. He thinks Jerry is his mother and starts devouring everything made of wood. He tries to put the baby back in its nest but it keeps following Jerry back... Jerry chases him away. When Tom sees the little fellow he gives chase and catches him but Jerry comes to the bird's rescue. When Tom finally eats the little woodpecker the bird drills holes in Tom's body..then the gratuitous drink the water and watch it pour out the holes scene. The bird drills out through Tom's teeth and the cat changes tactics and chases Jerry with an axe. The woodpecker saves Jerry a few times and finally drops a large pole on Tom, crushing him into the ground. Then mommy woodpecker arrives, kisses jerry and flys away with her child.

notes:
Music - "Mother" (Morse)
Remade in 1956 as "The Egg And Jerry"
Nominated for an Academy Award
----------

Heavenly Puss - (7 min. 48 sec.) 1949

While chasing Jerry, Tom gets crushed by a piano and is on his way to heaven. One trouble... since he spent his whole life persecuting a mouse they won't let him past the pearly gates. He's given 1 hour to get Jerry to sign a note of forgiveness or its the boiling pot of Hell for Tom... the devil being a horned Bulldog... pretty scary lookin'. It takes quite a while, and Jerry smacks him a couple times, but he finally gets the signature... but it seems too late! as he falls into the boiling pot! Then Tom wakes up (he was dreaming) runs to the mousehole, grabs Jerry and starts kissing him. Jerry doesn't know what the heck is going on!

notes:
Parts used again in "Shutter Bugged Cat" in 1967
----------

The Cat And The Mermouse - (7 min. 49 sec.) 1949

A dream sequence in which, while chasing Jerry, Tom falls in the water and drowns. On the sea bottom he awakes and discovers a mermouse and starts to chase him. He swallows the mermouse but it swims out through Tom's ear and hides in a school of seahorses. Tom lassos him but gets clobbered by an anchor. Then a big swordfish starts to chase Tom... Tom hammers him once and finally gets the fish to run his pointy nose through a mast. Then a giant octopus grabs Tom and it looks bad. The mermouse tries to help by pulling and we shift to the real world with Jerry using artificial respiration to save Tom's life.

notes:
Music - "Here's To The Girls" (Edens); "Horses" (Gay)
----------

Love That Pup - (7 min. 55 sec.) 1949

Tom is chasing Jerry and gets hit with a rake and a shovel and finally runs into bulldog Butch and his sleeping son. Tom catches the pup instead of Jerry and Butch threatens him violently. Jerry then hides in Butch's mouth and Tom tears his teeth out. Upon returning he grabs the pup, mistaking him for Jerry... the pup runs a way and Tom takes his place beside Butch, who is only fooled for a minute and so chases Tom. Tom gets hit with a rake and then gets Butch to chase a big steak and locks him in a shed. Tom gets Jerry to run under a barrel and then, upon Jerry getting away, puts the barrel over the little dog. Butch finds his son and is furious... he chases after Tom. The final scene is nightime with Tom outside and Jerry resting in the house between Butch and his son.

notes:
Remade in 1957 as "Tops With Pops"
Parts of this were used in "Matinee Mouse" in 1966
First appearance of Butch's son... later to be Spike and Tyke
----------

Jerry's Diary - (9 min. 43 sec.) 1949

Tom is placing some the most deadly traps around Jerry's mousehole when Uncle Dudley's radio show come on and announces it's be-kind-to-animals week. Tom repents and removes the traps and replaces them with gifts but finds Jerry isn't home. He finds Jerry's diary and starts to read.... he reads a series of shorts from past adventurs in which he, Tom, gets crushed. 1) Tee for Two 2) Mouse Trouble 3) Solid Serenade and finally 4) The Yankee Doodle Mouse. Tom is now furious! and he start to get rid of the gifts when Jerry appears and sees a pie for him.... he smiles with open arms and Tom splats him with it! Jerry is confused.

notes:
Music - "Shorter Than Me" (De Paul)
This ending is used again in "Matinee Mouse" in 1966
----------

Tennis Chumps - (6 min. 49 sec.) 1949

Tom and a black cat (Butch) are in the tennis finals. Bad things happen to Tom: his racket catches on fire, he gets tangled in the net, and he swallows a bunch of tennis balls. Jerry plays the two cats against each other... giving Tom a bomb to serve which blows up Butch... and to Butch an iron tennis ball that breaks Tom into pieces. They crush Jerry a bit when he swallows a tennis ball but wind up playing the mouse two against one in a tennis game. Jerry then hammers them with balls from a tennis machine until the cats get suspended in the net. Jerry wins the match and takes the trophy!

notes:
Music - "All God's Chillun Got Rhythm" (Kaper-Jurmann)
----------

Little Quacker - (7 min. 7 sec.) 1950

Tom finds a duck egg and wants to cook it, but it hatches and Tom gets to have roast duckling. Jerry to the rescue! Tom manages to chop off his own tail, have a roof fall on his head and a falling tree crush him. The cat then uses a decoy which the duckling falls for... but jerry replaces it with dynamite which blows Tom's head off. After getting hit with a hammer Tom chasess them both with a pair of shears but cuts up momma duck instead. Oops! She yells for her husband Henry who grinds Tom with clippers and a lawn mower. This ends with Jerry and the duckling being pulled in a rubber boat by momma duck.

notes:
Music - "Love That Pup" (Bradley)
The first of 8 appearances of the little duckling
----------

Saturday Evening Puss - (6 min. 18 sec.) 1950

Mammy Two Shoes goes out for the evening and Tom call his three buddies to come over and play music and drink. The friends (black, orange, and a little grey dude) make a ton of noise and keep waking up Jerry, who askes them to be quiet. Yeah right! They crush the mouse and force him into a pile of phonograph needles. Jerry then breaks the record player (you remember those?) and closes up the piano on the black cat's fingers. The cats just start up again. Jerry tries to stop them again... which leads to him getting hit with a trashcan lid and tied up in the blinds...and the cats making more noise. Jerry makes his way to the phone and calls mammy to let her know.... she rushes home and throws the cats out of the house (they form a totem pole against a wall. Unfortunately she then puts on loud music and Jerry is still miserable.

notes:
Music - "Darktown Strutters' Ball" (Brooks)
This was originally named "Party Cat"
Later prints have Mammy replaced with a young white woman
----------

Texas Tom - (6 min. 34 sec.) 1950

Tom is a cowboy and is practicing his lasso on Jerry, who is pulled over spurs and cactus. A lovely lady cat gets off the stage and Thomas goes to work. He ambles over to her, tips his hat, rolls a cigarette (with Jerry forced to do the licking) and starts playing the guitar. Jerry must start the record player as Tom's slave. Jerry's revenge is turning the record player to fast, then slow speeds and then poking Tom with a hot branding iron. Tom tries to lasso Jerry but instead hooks a BIG BULL. The rest is Tom trying to escape from this bull, giving up, and putting a blindfold on and smoking his last cigarette before his destruction.

notes:
Music - "Ventriloquist Cat" (Bradley); "I Tipped My Hat And Slowly Rode Away" (Markes-Charles); Sweet And Lovely" (Arnheim); "If You're Ever Down In Texas, Look Me Up" (Shand-Dunham)
Parts were reused in "Smitten Kitten" and Cruise Cat".
----------

Jerry And The Lion - (7 min. 13 sec.) 1950

Tom finds Jerry in the fridge at clobbers him... The radio then announces the escape of a ferocious lion and Tom blockades up the house an gets into his hunting outfit. Jerry finds the lion in the basement and sees he's friendly... he's just tired of the circus and wants to go back to Africa... and he's hungry! Tom chases after Jerry and sees the lion behind the curtains... the lion crushes him into the mantle where a heap 'o bricks fall on him. Tom opens an umbrella and the lion falls out. Tom then runs into a closet and locks the door behind him, but the lion is in there and knocks the cat out. Ton finally gets chased out of the house by Jerry. The finale scene is jerry waving goodbye (with tears) as the lion floats away aboard the S.S.Africa.

notes:
Music - "Love That Pup" (Bradley); "Sleepy Time Gal" (Whiting); "Blaze Away" (Holzman)
Original title was "Hold That Lion"
----------

Safety Second - (7 min. 7 sec.) 1950

4th of July fun with Nibbles who blows up two firecrackers in Jerry's face. While Jerry is relaxing in a hammock Tom puts a big firecracker under him... but eventually the cat gets punched in the eye. Tom then gets a pickaxe to get at Jerry, who's hiding in a hole, until Nibbles blows him up with another firecracker. Nibbles hides in a 'cracker and Tom leaves him alone for a bit... but then thinks the devise is so tiny... what could happen? BOOM! A furious Tom then tries to blow up everything and gets himself blown up with a rocket, which explodes in the sky. We are then back with Jerry and Nibbles, and Jerry gets blown up again.

notes:
Music - "Love That Pup" (Bradley); "Here Comes The Sun" (Woods-Freed)
Originally titled "F'r Safety Sake"
----------

Tom And Jerry In The Hollywood Bowl-(7 min. 22 sec.) 1950

Tom is the conductor at the Hollywood Bowl.... in full tux playing Die Fleermaus. Jerry pops up in tux also and tries to help conduct, but Tom throws him out. This happens a few times with Jerry being flicked and beaten continuously... at one point he gets on his knees and pleads to conduct to no avail. Jerry finally breaks Tom's baton, puts him on skates and rolls him away... the cat eventually getting run over by a bus. Tom comes back and crushes Jerry between cymbals. Finally fed up, the mouse cuts holes in the floor below each orchestra member so that Tom has to play every instrument himself with Jerry conducting. At the end Tom falls in a sweaty heap while Jerry bows.

notes:
Music - "Die Fledermaus" (Johann Strauss)
----------

The Framed Cat - (7 min. 11 sec.) 1950

Tom grabs a chicken leg and when Mammy comes in he blames it on Jerry. The maid orders Tom to catch that mouse.... he does so and then finishes up the piece of fowl. Jerry is peeved and plans his revenge with Butch the dog's new bone. Jerry steals the bone and plants it on Tom. Butch finds it and warns the cat to stay away from his bone but Jerry keeps it up... Tom being pounded each time. Jerry puts a hunk of metal in the bone and a magnet in the cat's mouth. Everytime Butch tries to take the bone it attracts back to Tom's jaws. Finally we see Tom running down the street being chased by Butch and Jerry, quite happy, sitting in a tin can.

notes:
Music - "Love That Pup" (Bradley); "Sing Before Breakfast" (Brown-Freed)
When re-released for 1957 Mammy was replaced by a white servant
----------

Cueball Cat - (7 min. 2 sec.) 1950

As the title suggests the scene is a poolroom with Tom playing and Jerry sleeping inside the ballshute. Of course Jerry gets hit with a 10 ball, runs out the hole and is then chased by another ball that Tom has shot at him. Tom chalks Jerry's head and hits a ball with him, and then forces the mouse to balance on a ball while jumping through a flaming ball wracker. Tom then gets hit with a cue stick and by a bunch of batted pool balls. A lot more fun when Jerry gets sticks thrown at him, Tom gets crushed by a rake and punctures his own rear with a big needle. The cat then falls into a biiliard pocket up to his neck and, with Jerry now playing pool, is forced to swallow a yellow "one" ball.

notes:
Music - "Love That Pup" (Bradley); "Winning Fight" (Holzmann)
----------

Casanova Cat - (7 min. 4 sec.) 1951

Tom goes a courtin' a girlkitty (Toodles) dragging Jerry behind him wrapped in ribbons. He winds Jerry up like a music box and Jerry is forced to make jittery movements as such. Jerry is then blackened and is forced to dance on a plate heated by a match (this is often cut nowadays). Jerry then signals Butch, the black cat, to come on up and court this young cat and zooms along. The two cats battle to and fro with Tom at one point swallowing a bowling ball. Jerry then ties their tails together (a funny scene) and takes off in a car with Toodles... kissing her many times.

notes:
Music - "Love That Pup" (Bradley); "Broadway Rhythm" (Brown-Freed); "Lovely Lady" (McHugh-Koehler); "Three Letters In The Mailbox" (Jurmann-Webster); "Over The Rainbow" (Arlen-Harburg); "You Were Meant For Me" (Brown-Freed)
----------

Jerry And The Goldfish - (7 min. 21 sec.) 1951

Jerry and Goldy are buddies, but when Tom hears a recipe on the radio by "Francois the Great Chef" trouble ensues. The cat grabs the fish and of course Jerry hits him and carries Goldy away in a glass of water. Tom tries to fry the fish and gets knocked silly; Tom chases the two and gets squished into an accordian shape and then a sausage. Tom then breaks the glass with a gun and first tries to grill the fish, and then toast him. Jerry intervenes and by sticking Tom's tail in a clothes roller and then substituting a stick of dynamite for a carrot. As Tom is blown up Jerry goes swimming with his pal.

notes:
Music - "Love That Pup" (Bradley)
----------

Jerry's Cousin - (6 min. 39 sec.) 1951

This opens in an alley scene with beaten-up cats everywhere, the victims of Muscles Mouse. Jerry writes to his cousin in hopes that he'll help with Tom. He arrives as Tom is throwing dynamite into Jerry's hole... Muscles wedges into the cat's mouth, it blows up and he then threatens Tom. The cat gets hammered a bit and then goes into training... to no avail... Muscles blows his fist up like a ballon and knocks Tom out. Tom drops a bowling ball on the mouse but in return gets broken into little Tom Pins by Muscles. Tom then phones "Dirty Work Inc." to dispose of this super mouse but they are crushed right out of the house. Tom's only chance is to become his slave, and when Muscles gives his suit to Jerry, Tom kisses his toes.

notes:
Music - "Lydia, The Tatooed Lady" (Arlen-Harburg); "The Dickey Bird Song" (Fain-Dietz)
Previous titles: "City Cousin" and Muscles Mouse"
Nominated for an Acadeny Award.
----------

Sleepy-Time Tom - (7 min. 5 sec.) 1951

Tom and his cat buddies come home from a night on the town, and Tom gets scolded by Mammy-Two-Shoes for not being there to get that mouse! This short deals with Jerry doing everything he can to make Tom comfortable so that he'll fall asleep and get tossed out by Mammy. Tom falls asleep while running and, after getting hit with a baseball bat, Jerry slides a pillow under his head so that he gets yelled at again. Tom has had enough and drinks a gallon of coffee to try to stay awake and even goes so far as to paint eyes on his eylids to fool the maid. But Jerry will have none of that and with some screens puts Tom to sleep again... for which he gets thrown out for good. Closing scene is Tom's drinking buddies finding him with his head on a brick and then carrying him off for another wild night.

notes:
Music - "Love That Pup" (Bradley); "Sleepy Time Gal" (Whiting); "Sleepy Head" (Donaldson-Kahn)
----------

His Mouse Friday - (7 min. 11 sec.) 1951

Tom is shipwrecked and floating on a raft, and he's so hungry he eats his shoe. He seea an island, swims to it, and is hit on top of his head by a coconut. He can't break it open. He tries to eat a tortoise but breaks his teeth. Of course, then he sees Robinson Crusoe Jerry and the food chase is on. When they find themselves in a seemingly deserted native village Jerry dresses up as a cannibal, fools the cat, and has him sitting in a pot cooking. He even cuts up his own vegetables. When Jerry looses his skirt Tom is furious and the chase is on again.... until he runs into REAL cannibals! Tom runs off, and when Jerry is under duress himself, the two fly off together.

notes:

----------

Slicked-Up Pup - (6 min. 19 sec.) 1951

Butch is cleaning his son in a big tub, but right after saying "nice and clean" Tom runs by chasing Jerry and knocks the pup into the mud. The dog crushes Tom, makes him clean his son, and tells him what's going to happen if he finds his son dirty again. Jerry takes advantage by writing on the pup's back... Tom cleans him. The cat also takes a tomato in the face (Jerry threw it) so as not to get the pup messy. When the dog gets inked Tom tris to paint over him, but the mouse switches paint buckets and it's even worse! The pup then gets covered with tar and Tom passes him off to butch as a rooster. When the cat finally throws the pup in the washing machine Butch gets furious and throws Tom in instead. Final scenes are Butch, his son and Jerry watching Tom go round and round.

notes:
Music - "Love That Pup" (Bradley); "The Dickey Bird Song" (Fain-Dietz)
----------

Nit-Witty Kitty - (6 min. 33 sec.) 1951

Mammy is upset with Tom and hits him with a broom. Somehow his personality changes and he thinks he's a mouse! He kisses Jerry and gives him cheese, then goes into the mouse's hole and lies down in his bed... crushing it. Mammy phones for a doctor while the mouse look in an encyclopedia and finds out the hitting him again should bring the cat back to normal. But Tom keeps avoiding all Jerry's plans... bowling balls, pianos, anvils and irons. The cat then accidently gets hit by an ironing board and is back to normal. Jerry is quite happy. Unfortunately, Mammy doesn't know this and hits him with a baseball bat returning Tom to mouse-state. He returns to Jerry's mousehole.

notes:
Music - "Love That Pup" (Bradley)
----------

Cat Napping - (6 min. 52 sec.) 1951

Jerry is sleeping in a hammock when Tom arrives and wants to use it. He slides the mouse first into a puddle and then flings him into the trees, but Jerry comes right back. The cat then puts Jerry onto an group of ants where he hits his haed on a lawn sprinkler. The mouse kicks a frog into the cat's drink (Tom sucks him up through a straw), and when he swallows him Tom bounces all over the place. Jerry then catapults Tom into the sky by hooking the hammock onto a well handle... he breaks into pieces when he hits the water. Jerry then throws a bone into the hammock which Butch then jumps in to, and when Tom runs back (and not looking mind you) he beats the dog with a club. After being totally trashed by the dog you see Tom fanning Jerry while Butch kicks him repeatedly.

notes:
Music - "Love That Pup" (Bradley); "Here Comes The Sun" (Wood-Freed); "Man On The Flying Trapeze" (Lea-Leybourne)
----------

The Flying Cat - (6 min. 44 sec.) 1952

Tom is after a small yellow canary and actually has the cage inhand until Jerry trips him and the cage breaks against a tree. Then, while chasing Jerry, Tom is crushed by a pole and burned up while standing on a ladder. He tries swinging up to the repaired bird-house and gets sliced apart by telephone lines. Then by using two pieces of a girdle he makes like a bat and starts to fly, at first getting crushed in a mailbox and then impaled on a heap of roof nails. The cat finaly loses the bat gear and falls horribly into a tree. The end has Tom being crushed by a train (turning into a traffic signal) while Jerry and the canary ride away in the back of the train.

notes:
Music - "Love That Pup" (Bradley)
Infused throughout is the music from Chopin's Waltz #1

Segments reused in "Matinee Mouse" of 1966
----------

The Duck Doctor - (7 min. 3 sec.) 1952

Tom is a hunter and he hits a duckling with his shotgun, breaking his wing. Jerry tries to hide him but the cat appears with gun in hand.... Jerry sticking a plant in the barrel which blows Tom's head off. The trouble is that the duckling (with his wing in a sling) keeps trying to leave and join his flock, much to Jerry's chagrin. Tom uses decoys sounds which the duckling runs for, but somehow it always backfires with the cat getting crushed by a large pig and finally a heavy anvil; the last bit with Tom digging his own grave and smoking a last cigerette before it hits him. The end has the duckling rejoining his friends and Jerry saying goodbye with the duckcall.

notes:
Music - "Love That Pup" (Bradley)
Little Quacker is green in this short
----------

The Two Mouseketeers - (7 min. 21 sec.) 1952

Tom is the Cardinal's guard and he is to stand watch over the banquet table; Failing means death! Jerry and Nibbles, the Kings musketeers, have other plans and begin to raid the table. They open champaign and make sandwiches until Tom arrives and attackes Nibbles. Jerry comes to his rescue and they fight a duel, but the cat gets sliced by a halberd (dropped by Nibbles). Nibbles falls into a wine glass, becoming drunk, and keeps provoking Tom... again Jerry saves him by dueling. As Jerry is losing, Nibbles uses a cannon stuffed with food to fire upon the cat... winning victory. As the mice enjoy their food you hear a drumroll and the guillotine blade fall. Nibbles says, "Poor, Poor Pussycat".

notes:
Music - "Soldiers Of Fortune" (Romberg-Kahn)
This feature won the Academy Award
The first of the cardinal vs musketeer films
----------

Smitten Kitten - ( 7 min. 49 sec.) 1952

Jerry cuts up Tom's tail into what looks like a row of paper dolls and the cat is furious untill he spies a sweet young gray kitten on a lounge chair. He goes ga-ga. Thena little green devil appears before Jerry telling him all the bad things that happen to him when Tom falls in love. There are now flashbacks from "Salt Water Tabby", "The Mouse Comes To Dinner", "Texas Tom", and "Solid Serenade", all of which show Jerry getting crushed! The devil gives Jerry a big pin but Jerry then gets excited about a young girl mouse. Disgusted the devil walks away.... until he sees a girl devil and he too gets smitten.

notes:
Music - "Blue Moon" (Rodgers); "Here's To The Girls" (Edens)
----------

Triplet Trouble - (7 min. 9 sec.) 1952

Mammy is babysitting three kittens but they turn out to be really obnoxious brats. Tom is told to be very nice to them (ginger, tan, and black) but they start picking on Tom. Jerry laughs, but then they run after him and thoroughly thrash him. The cat now laughs and they hammer him, causing Tom to fly in the air and crash to the ground. Finally Tom and Jerry are kicked out of the house. That's IT! Jerry hits them with milk while Tom throws pies and watermelon. Tom gets a flying machine, grabs the kittens and flings them to the ground. Then the kittens get thrown into a dryer, going round and round, and Jerry spanks them time and time again.

notes:
Music - "Love That Pup" (Bradley)
----------

Little Runaway - (7 min. 4 sec.) 1952

G.H. Bros. Circus looses a baby black seal which Jerry discovers in the swimming pool. The baby doesn't want to go back and he's quite hungry. So Jerry steals Tom's fish, pretending it's alive, and feeds the seal. Tom is going to hit the mouse but baby seal spins him like a ball on his nose. Tom, hearing that there is a reward of $10,000, captures the seal only to be thwarted by Jerry. The chase then runs along telephone wires where the seal dives into a glass of water. Tom follows but can't get out of the glass. The cat then uses a tire tube and disguises himself as a seal.... he even plays ball with the baby in order to make the capture. At this time the game warden drives by and grabs Tom by mistake. Upon entering the circus ring Tom is applauded and he loves it! He's is then hit in the face with a big fish.

notes:
Music - "Love That Pup" (Bradley); "Flying Feet March" (Axt)
----------

Fit To Be Tied - (6 min. 49 sec.) 1952

The dog "Butch" gets a thorn in his paw and Jerry takes it out. He then gives the mouse a little bell to ring whenever he gets in trouble.... which is ALWAYS. Tom grabs Jerry, sees the bell, rings it and instantly gets pummeled. Forced to do Jerry's every whim, Tom overhears the radio saying that all dogs must be tied up. The cat no longer has anything to fear and proceeds to annoy and hit tied up Butch with a pie. He gets caught once and is stripped down to his red underwear when his fur gets ripped off. After a few mouse crushings the law gets repealed at which time Butch mauls Mr. Tom and puts him on a leash... with Jerry ringing the bell beside them.

notes:
Music - "Love That Pup" (Bradley)
Parts of this were reused in "Smarty Cat" of 1955
----------

Push-Button Kitty - (6 min. 33 sec.) 1952

Tom has become a lazy bum. Mammy-two-shoes watches while Jerry walks by Tom with a piece of cheese and she decides to do something about it. She orders Mechano "The Cat of Tomorrow" and it works great!... throwing Jerry out of the house in a second! The things it does to the mouse are great... Jerry really takes a beating. Then he lets loose a bunch of mechanical mice and the future cat tears the house apart chasing them. Mammy calls for Thomas just as mechano blows himself up, throwing his main componant into Tom's mouth. While Mammy is thanking Tom for returning, Jerry takes the remote control and now controls Tom. As the maid looks on Tom destroys the house.

notes:
Music - "Love That Pup" (Bradley); "You Can't Do Wrong Doin' Right" (Rinker-Huddleston)
This was the last of Mammy-Two-Shoes
----------

Cruise Cat - (7 min. 2 sec.) 1952

Tom is the S.S. Aloha mascot and the captain tells him there will be a new mascot if he finds even one mouse onboard. Jerry, of course, tries to walk on and is kicked off and crushed by a coconut, a wooden post and slammed into a porthole. The mouse retaliates by crushing Tom in a lawn chair, making him slip on a bar of soap and draining a swimming pool that Tom is diving into. Jerry then gets shuffle boarded into a post but then traps Thomas in the booby hatch with a stick of dynamite. After another exchange of fire, the mouse winds up on the captain's plate of food... which gets Tom thrown in the brig. The final scene is Tom looking out a porthole at jerry surfing the Hawaiian beach.

notes:
Music - "Hawaiian War Chant" (Noble-Leleohaku); "It's A Most Unusual Day" (McHugh-Adamson); "Makin' Love Mountain Style" (Scholl-Moulton)
Parts of "Texas Tom" are used in this film
----------

The Dog House - (6 min. 39 sec.) 1952

Spike is building his dream dog house when Tom comes by chasing the mouse and crushes it with a piece of wood. Spike then warns the cat not to damage his house anymore and slams Tom into a mailbox. Spike hits Tom on the head with a hammer and when he becomes dizzy the cat knocks the dog into his own dog house. Jerry throws a pair of skates in Tom's path but the cat avoids the dog house... he instead hits Spike on the head with an ax handle and the dog falls unconscious onto his house. The dog house then gets crushed by a dirt compactor a stick of dynamite and a telephone pole. Spike decides to build his house in a tree but Tom chops that down too. The cat finally smashes the house against a fence and pulls Spike through a hole the size of a quarter... Spike of course then thrashes Tom as the scene fades out. The final bit shows Tom building Spike's house (complete with awning) as the dog, with Jerry holding the blueprints, keeps him working with a whip.

notes:
Music - "Love That Pup" (Bradley); "My Blue Heaven" (Donaldson-Whiting)
----------

The Missing Mouse - (6 min. 33 sec.) 1953

While Jerry is looting the fridge Tom comes by and hammers him... He pinches Jerry's tail in a mousetrap and while running away the mouse spills a bottle of white shoe polish on himself. Suddenly the radio blurts out that an experimental "explosive" white mouse has escaped from the lab. Tom sees Jerry and is frightened to death! Jerry takes advantage and keeps trying to fall off shelves and such... the cat catching him no matter what. Tom lets irons and pianos fall on him instead of Jerry. When the mouse falls in the sink Tom realizes he's been a fool and hits Jerry with a hammer and throws him out. The REAL white mouse then enters and when Tom washes him and then sees Jerry he ages 50 years! The radio then announces that the explosive mouse is no longer dangerous.... Tom strikes him and BOOM! The cat sticks his head out of the rubble and says "Don't You Believe It!"

notes:
The music is NOT by Scott Bradley
----------

Jerry And Jumbo - (7 min. 13 sec.) 1953

The circus come to town on a train but a baby elephant falls out of a railroad car and rolls all the way into Tom's home. He inhails Tom's milk and the cat blames Jerry who in turn is rescued by the baby elephant (using his super suction trunk). Jerry and "Jumbo" become pals and terrorize poor Tom with the help of paint that makes Jumbo look like a giant mouse! Tom gets hit by a hammer about a dozen times and is flatened when Jumbo falls on him. Finally Tom has had enough and gets out the shotgun to blast 'em both. But mommy elephant appears, paints herself, and when Tom see's 3 mice, one of which is as big as a house, he cracks up, runs through walls and off into the distance.

notes:
Music - "Love That Pup" (Bradley); "On The Atchison, Topeka, And The Santa Fe" (Warren-Mercer)
----------

Johann Mouse - (7 min. 57 sec.) 1953

This is the story of Johann Mouse, who lived in Vienna, in Johann Strauss' own house. Every day, when Johann Strauss plays the piano, Johann Mouse (Jerry) dances. Day after day, Tom tries unsuccessfully to catch him. Johann Strauss leaves on a trip and Tom knows that without music he doesn't stand a chance of catching Johann Mouse. So he learns to play the piano-in six lessons!-and quicky becomes a virtuoso pianist. Johann reappears. Tom goes after him. He plays with him and captures Johann/Jerry. The staff of the Strauss house applauds. Tom plays the piano and Jerry dances. The news soon spreads. Tom and Johann-Jerry are invited to the emperor's palace. Tom plays the piano and Jerry dances. But Tom stops playing, and starts chasing the mouse. The mouse escapes and bows to the ap-plauding audience.

notes:
This episode received an Academy Award
----------

That's My Pup - (7 min. 23 sec.) 1953

Spike is teaching his son Tyke things he'll find useful in life: sitting up to beg from his master, burying bones in good places, and, above all, cleverness in chasing cats. At this point Tom arrives, in pursuit of Jerry. Spike scares Tom with his growling. He loses his skin in fright. Spike tells Tom he has reason to fear Tyke. Tyke barks at Tom, making Spike happy and proud. Jerry, who's threatened by Tom, makes a noise that attracts Tyke, and then Spike. Jerry barks, frightening Tom. Soon Tom sees what's really going on. He hides, but Tyke pulls him by the tail. Tom takes his revenge, putting Tyke all the way on top of a flagpole. Tyke falls, and Spike, now furious, takes his revenge. He spreads grease on the mast and chases Tom who climbs up, then redescends. So it goes with little Tyke barking away and Spike enjoying the "ferocity" of his offspring.

notes:
Music - "Love That Pup" (Bradley)
----------

Just Ducky - (7 min. 57 sec.) 1953

Six little ducklings hatch out of their shells. They follow their mother, but the sixth one can't swim and almost drowns. He calls for his mother and cries. Jerry arrives and tries unsuccessfully to teach him to swim. He gets a float, but the duckling meets up with Tom, who plans to cook him. Jerry intervenes and hits Tom full in the face with a shovel. Tom is forced into the shape of a buckled tube. Jerry gives him a swollen head by blowing through the tube, and the duckling bursts this giant cat head with the prick of a safety pin. Tom locks Jerry up in a can. He starts out after the duckling and falls in the water. He begins to drown. The duck-ling rescues him, and Jerry warms up poor, frozen Tom. The duckling follows his siblings in an athletic swimming style.

notes:
Music - "Love That Pup" (Bradley)
----------

Two Little Indians - (6 min. 49 sec.) 1953

Jerry, a scout chief, is asked to take charge of two little orphaned mice. But the two little mice, dressed up as Indians, have no sense of danger. One of them gets caught by Spike. Fortunately, Jerry snatches them away from the dog. The other mouse aims his bow and arrow at a bird. Jerry rushes in, scolds him, and gets an arrow in his rear. The two little mice attack Tom, but Spike captures Jerry, and the two mice set him free. Tom gets scalped, and is knocked out by Jerry and by a mailbox that falls on him. The three mice scamper away, and Tom tears himself apart going after them. Tom captures Jerry. The two little mice send up smoke signals from the toaster. One of them paints Indian heads on some badminton shuttlecocks. Tom, dressed as Davy Crockett, gets ready to raise a siege against these "assailants." The two little mice disguise Spike as an Indian chief. Tom is horrified at the sight of him. One of the little mice climbs into Tom's rifle and shoots an arrow at him. The other mouse sets fire to the gun-powder, and the house explodes. Tom gives up. The three mice smoke a peace pipe. Tom smokes, too, but he swallows the smoke and chokes.

notes:
Music - "Love That Pup" (Bradley)
----------

Life With Tom - (7 min. 49 sec.) 1953

Jerry receives a package. Tom grabs it and opens it. It's a book, Life with Tom, by Jerry Mouse. It's a bestseller written by Jerry. Tom starts to read it. Chapter VII: Tom goes fishing and uses Jerry as bait. Jerry attaches the line to Spike's paw. Tom casts Spike out on his rod and Spike retaliates. (Excerpt from 'Cat Fishin'," 1947.) Tom discovers that the cats in the neighborhood are enjoying Jerry's book. He is furious, but he continues to read. Chapter XI: Tom, disguised as an Indian, confronts Jerry and Nibbles. He's hit in the face with a champagne cork, then with a pie. His tail catches on fire from candle-arrows, and he's finally catapulted into the air by a champagne bottle. Exhausted and beaten, he surrenders. (Excerpt from The Little Orphan," 1949.) Tom passes by Spike and Tyke, laughing as they read. He continues his own reading. Chapter XX: Tom ties Jerry to the tracks of a toy train and, perched on the motor carriage, drives the train toward him. But the canary appears and throws a bowling ball, which derails the train. Tom is buried with the train, in a hole. (From 'Kitty Foiled," 1948.) Tom is furious. He shows Jerry the book that has just come out and hits him. Jerry shows him the letter from the publisher and a check for $25,000, with 50 percent of the royalties meant for Tom. Tom is the first to laugh.

notes:
Music - "Love That Pup" (Bradley); "Here Comes the Sun" (Woods-Freed); "The Trolley Song" (Martin-Blane)
This film is the only one of the series in which Spike, Tyke, and Nibbles all appear at the same time
----------

Puppy Tale - (7 min. 3 sec.) 1954

It's nighttime. A car pulls up on a bridge, and a sack is thrown into the river. Jerry takes it out of the water. Five dogs and a puppy escape. Jerry tries in vain to chase the puppy away, and then decides to take him home. The puppy drinks Tom's milk. Tom puts the puppy out of the house, but Jerry lets him in again. The puppy falls asleep in Tom's basket and gets thrown out again. The puppy gets into an empty milk bottle. Jerry lets him inside the house again. Tom swings into action, and the puppy soon finds him-self outside, with Jerry. Tom begins to feel guilty when he sees the rainstorm outside, and he imagines Jerry and the puppy drowning. He decides to let them back in, but when he goes looking for them, he falls into a puddle. Jerry and the pup rescue him and warm him up. Finally, all three are snug and warm inside the house, when the five other dogs arrive, responding to the pup's bark. All the dogs descend on Tom's milk bowl.

notes:
Music - "Love That Pup" (Bradley); "Sleepy Head" (Donaldsen-Kahn)
----------

Posse Cat - (6 min. 28 sec.) 1954

Jerry gets hold of a sausage. The ranch cook offers Tom a number of dishes, saying that he can't have them until he captures the mouse. Tom tries to catch him, but Jerry lassoes him. Tom throws his lasso, but instead of catching Jerry, he gets the turkey that the cook was putting in the oven. The cook gets angry and draws a gun on Tom. Jerry prepares a sandwich with the cook's hand as the meat. Tom bites it and the cook immediately shoots him. The water Tom drinks starts coming out of the holes in his skin. Jerry then makes a sandwich with a bull! Tom takes a bite and the bull, in a rage, sends him flying. Jerry then offers to go fifty-fifty with Tom on all his future meals. Tom accepts. He pretends to be a fierce cowboy by twirling his revolvers, and as a reward gets a big meal, which he refuses to share with Jerry. So the mouse pitches the plate and its contents right in his face. Tom goes after him, with a red-hot brand, but gets the cook, not Jerry. Tom runs away, pursued by the cook, who is firing away at him. Meanwhile, Jerry eats in peace.

notes:
Music - "Love That Pup" (Bradley); "Making Love, Mountain Style" (School-Moulton)
The leaking holes and water bit was also used in "Hatch Up Your Troubles" in 1949
----------

Hic-Cup Pup - (6 min. 17 sec.) 1954

Spike is putting his son Tyke to sleep. He places him in his cradle and demands immediate silence from a chirping bird. Tom comes along, on his way after Jerry. Spike warns him: "If you wake up my son...POW!." Tyke gets the hiccups. Spike sternly warns Tom: "Don't you wake him again!" But Jerry bites Tom, and Tom, now chasing after Jerry, hits Spike with a shovel. Tyke still has the hiccups. Tom gets his hand caught in a mousetrap. He whistles into a garden hose and makes a noise like a trumpet. Spike is getting angrier by the minute. Tyke still has the hiccups; Tom now gets them, followed by Spike. Spike tries to get rid of Tyke's hiccups by frightening him. Tom falls off the roof while chasing Jerry. He buries himself underground, convinced of Spike's inevitable reaction. But Tyke and Spike no longer have the hiccups. Spike thanks Tom. They are now reconciled. Jerry, disgusted, leaves for the South.

notes:
Music - "Love That Pup" (Bradley)
This episode's original title was "Tyke Takes A Nap."
----------

Little School Mouse - (7 min. 50 sec.) 1954

Jerry is teaching Tuffy in mouse school how to avoid a cat. He tries a mechanical cat paw but Tuffy flattens him a dozen times. Problem 1 is getting Tom's whisker without getting killed. Jerry does it but Tuffy blows it and gets Jerry completely hammered by Tom when he closes the mouse hole door. Number two is getting cheese from the cupboard which Jerry struggles with, but succeeds. Tuffy simply asks a tired Tom for the cheese... and gets it (much to Jerry's displeasure). The final is getting a bell around the cats neck. Jerry fails and gets the bell wrapped around his own neck so tight he looks like a giraffe, while Tuffy wraps his bell up as a present and gives it to Tom... he loves it. Jerry throws his diploma in the garbage and Tuffy takes over the class... which now includes Thomas. He teaches cats and mice should be friends and jerry shakes his head no, but Tom says yes while playing with his bell.

notes:
Music - "The Alphabet Song" (arr. by Bradley)
----------


Baby Butch - (7 min. 9 sec.) 1954

Butch, a black street cat, is looking for food. He sees that the refrigerator in the house where Tom lives is full, and he makes believe he's a starving, abandoned baby. Tom takes him in. Butch tries to steal a ham, but Tom gives him a bottle instead. Butch knocks him out, but Tom recovers and helps the "baby" burp at the end of his meal. Jerry comes along and takes the ham. Butch strikes again. Tom gives Butch a bath and the black cat shows him that Jerry has laid his paws on the ham. Tom takes the ham back and discovers the baby hidden in the refrigerator. Jerry gets the ham back, but Butch completely empties the refrigerator. He hits Tom and grabs the ham. Thanks to Jerry, the food stays in the house and Butch finds himself back outside. Tom and Jerry share the ham. Butch reappears. He cuts himself a slice of ham and tries to devour the rest. Tom and Jerry jump on him.

notes:
Music - "Love That Pup" (Bradley); "I Got Out of Bed on the Right Side" (Schwartz-Merner)
----------

Mice Follies - (6 min. 49 sec.) 1954

Jerry and Tuffy, who have turned on the water, cause the kitchen and bathroom sink to overflow, and then freeze the water with a refrigerator electrode. Jerry dances on the ice. He dances with Tuffy. Tom arrives, and Tuffy hooks on to his whiskers. Jerry cuts Tom's claws, and the cat is sent flying far out into the distance by the two mice. But Tom finds a pair of ice skates. Now he's able to compete and toy with his two opponents on the ice. Tom chases Jerry, passes under a door, and comes out looking suddenly like a toboggan. Tuffy makes a springboard and Tom goes flying off into the air. He lands in the cellar. He reappears, armed with a shovel, and tracks down Jerry. Tuffy melts the ice, then refreezes it at a single blow. Tom is frozen into the ice, and Jerry dances around the frozen cat.

notes:
Music - "Love That Pup" (Bradley); "Sleeping Beauty Waltz" (Tchaikovsky)
----------

Neapolitan Mouse - (7 min. 15 sec.) 1954

Tom and Jerry arrive in Naples, Italy. Tom chases Jerry but is defeated, temporarily. The chase continues. Tom attacks Jerry with a frying pan. Topo, an Italian mouse, arrives on the scene. He knocks out Tom and helps Jerry. Tom is transformed into an accordion by a blue dog. Topo comes to his aid and ties up the dog. Topo recognizes his two new friends, Tom and Jerry, as the famous cartoon heroes. He takes them on a tour of Naples, showing them the San Carlo Opera House and Mount Vesuvius. But the blue dog reappears, accompanied by two other dogs. Tom, Jerry, and Topo send three big cheeses rolling after the dogs, and they land in the water. The ship's siren blows: It's time to go. Tom and Jerry leave. Topo and the three Neapolitan dogs say farewell.

notes:
Music - "My Friend Dodo" (Bradley); "0h Marie" (DiCapua)
Given the original script and the music entitled "My Friend Dodo," it would seem that the Neapolitan mouse was named Dodo, before becoming 'Topo" (which means mouse in Italian)
I note a drastic quality drop in animation with this film
----------

Downhearted Duckling - (6 min. 42 sec.) 1954

A duckling is crying. Jerry arrives. The duckling shows him The Ugly Duckling which he's been reading. He wants to kill himself with an axe but Jerry saves him. The duckling asks Tom to eat him. Tom, delighted by this request, obeys, but Jerry interferes and snatches the duckling away in the nick of time. The duckling then settles inside a sandwich meant for Tom. The mouse again snatches the duckling out of Tom's grasp but then Jerry, thinking he has hold of the duckling, actually has a hen. The duckling hides in a pie, hoping that Tom will eat it, but Jerry arrives and throws the pie in Tom's face. Jerry gives the duckling a beauty treatment, but Tom is horrified at the sight of him. The duckling grows sadder by the minute and pulls a sack over his head. Along comes a female duckling, who talks to the duckling and finds him handsome. Jerry rejoices at this turn of events. The duckling and his new girlfriend leave together!

notes:
Music - "Love That Pup" (Bradley); "It's a Most Unusual Day" (McHugh-Adamson)
----------

Pet Peeve - (6 min. 35 sec.) 1954

While Spike is eating a large ham and Tom is drinking milk from the milk bottle they overhear their owners complaining about bills. They say the dog and cat eat too much and one has to go. It's the lady's cat and the guy's dog. Tom rubs against her legs and plays with yarn while Spike licks his master. Tom vacuums and dusts while Spike Irons the clothes... all the while Jerry is watching and eating. The owner's decide that the one who catches a mouse can stay and the fighting begins quickly. Tom grabs Jerry and Spike hits Tom with his fist, and then Tom slams Spike in a sliding door. Spike detours the cat and clobbers him with a golf club and then Tom pulls the dog through a furnace grate... each time Jerry changes hands. They duel with swords and the furniture starts to get wrecked and when Jerry gets away and they roll him up in a rug, they chop it to bits... along with their master's shoes (with him still in them!). They both have to pack but are allowed to take what is theirs... they take the refrigerator and run off down the street.

notes:
Music - "Love That Pup" (Bradley)
----------

Touche', Pussy Cat! - (6 min. 45 sec.) 1954

Tuffy arrives in Paris and goes to the mouseketeers' headquarters. Captain Jerry reads the letter of recommendation from his friend Francois Mouse, about his young son Tuffy. Jerry supervises Tuffy's training, but the impetuous Tuffy breaks everything he touches and sticks Jerry with his sword. Tuffy pays court to a young lady mouse who steps over Jerry in order to avoid dirtying herself in a mud puddle. Tuffy provokes Tom, and Jerry cuts the cat's tail into circles. Jerry writes to Francois Mouse that his son will never make a real mousketeer. Tuffy leaves, dejected. Tom catches up with Jerry and they fight a duel... and Jerry is losing! Tuffy flies to the aid of Captain Jerry. He cuts Tom's tail, then draws a cat on the wall, singing "Frere Jacques" as he works. Tom appears and Tuffy draws a pair of glasses on Tom's face. Tuffy fires at Tom with a cork from a champagne bottle and opens a barrel that washes Tom away into the nearest sewer. "Poor, poor pussy cat," says Tuffy ironically. Jerry makes Tuffy a mousketeer but the little mouse again sticks him with his sword and gets a spanking from Jerry. "C'est la guerre!" Tuffy says in French.

notes:
Music - "We're on Our Way" (Brown-Brent)
The film was nominated for an Academy Award. This was the last nomination that the series received.
This film was remade in wide-screen format.
----------

Southbound Duckling - (6 min. 15 sec.) 1955

The duckling is getting ready to go south. He packs his valise and says goodbye to Jerry, who tries in vain to make him understand that he's a domestic duck, not a migratory bird. The duckling tries, with no success, to catch up with other migratory ducks. He can't even get off the ground. The duckling uses a sling to launch his flight, but he ends up in Tom's mouth. Tom opens a cookbook, How to Cook a Duck. The duckling uses a board to propel himself into the air. A weight falls on the board, and the duckling flies up but soon falls down again into Tom's frying pan. Jerry rescues him. The duckling sits himself on a rocket. The rocket goes off. Tom swallows the rocket, but not the duck. The duckling finally uses a balloon to get into the air. Tom aims a gun at it, but Jerry rescues the duckling again. Jerry and the duckling leave together for the south by plane. But Tom sneaks along, crouching against the landing gear. Jerry and the duckling relax on the beach, but suddenly Tom appears and catches them, imprisoning them beneath a bucket.

notes:
Music - "Love That Pup" (Bradley)
----------

Pup On A Picnic - (7 min. 4 sec.) 1955

Spike and his son Tyke are preparing a picnic basket. But Tom is in pursuit of Jerry and, in the heat of the chase, upsets the basket's contents. The two dogs set off for the forest with their basket, with Jerry perched on top. Tom grabs a string of sausages, thinking the two dogs are chasing Jerry. Spike catches up with him, but Tom throws out a sausage, and the dog runs after it. He then sees that he's been tricked. Tom goes after Jerry, who is hidden in a sandwich. Jerry makes Spike believe that Tom has thrown a tomato at him. Spike chases after Tom but the cat manages to lose the dog, who has been biting his leg. Tom soon finds himself stuck in a tree. He takes this opportunity to fish out the food from the basket with a fishing rod. But a column of ants arrives and sees the food. They climb the tree while Tom is fishing Out Jerry. The ants reach him, causing the apple tree to drop all its fruit to the ground, burying the two dogs and Tom. The ants leave again with the food and with Jerry, still hiding inside a sandwich.

notes:
Music - "Love That Pup" (Bradley); "I'll Make A Happy Landing" (McHugh-Fields)
----------

Mouse For Sale - (6 min. 48 sec.) 1955

Tom, quietly reading a newspaper, learns that white mice are fetching a good price. He draws in Jerry (who has absorbed a metal bolt painted like Swiss cheese) with a magnet, captures him, paints him white, and goes out to sell him. He gets some money, which he hides away. He already imagines himself living high and spending the money, surrounded by women, but the mistress of the house finds the money and goes out to buy a white mouse. It's Jerry, of course! Tom is horrified to discover this, and tries to attack Jerry, but his mistress hits him, and locks him out. Jerry puts on his act as "Jerry, the Dancing Mouse." Tom turns a garden hose on him, and Jerry soon becomes brown again. He runs off, through the teapot handle, plunges into the flour and becomes white again. Tom uses a bellows; Jerry is now half white and half brown and he behaves like a dancing girl, hiding his nudity. Tom sets to work again, and Jerry is completely brown this time. He uses some white shoe polish, and reappears in white. Tom gets disgusted and leaves. He covers himself with white paint and returns. He has become "Tom, the Dancing Cat" and his mistress now allows him to reenter the house. Tom begins to dance, stepping regularly on Jerry.

notes:
Music - "Love That Pup" (Bradley); "Here's to the Girls" (Edens-Freed).
----------

Designs On Jerry - (6 min. 39 sec.) 1955

This starts off with Tom trying to build the "Better Mouse Trap"; designing it on a drafting board and finishing the drawing just before he goes off to bed. Then something different... the stick-figured mouse on the drawing board comes to life, runs off the board and warns Jerry of Tom's calculations. Irv Spence must have had fun animating this one as the stick-cat comes to life and terrorizes both Jerry and stick-mouse. The cat's mouth gets erased and his legs shortened before he uses his tail as a lasso to capture Jerry. Stick-cat then gets punctured and rolled up like spaghetti before he finally gets sucked up by an ink pen. Stick-mouse and Jerry then change a 10 to a 12 on the drawing board just as the real Thomas wakes up. The cat then builds the contraption (very elaborate) and as Jerry sets it off, Tom waits for a safe to crush the mouse. It crushes Tom instead.

notes:
Music - "Love That Pup" (Bradley)
Some parts of this are used again in "Shutter Bugged Cat" in 1967
----------

Tom And Cherie - (6 min. 46 sec.) 1955

Jerry, mouseketeer captain, is madly in love with lovely Lilli. He writes her a passionate letter, which the faithful Tuffy, a mouseketeer, is ordered to bring to her. Tuffy blushes as he reads the letter, but on his way he meets Tom, one of the cardinal's guards, who challenges him with his sword. Tuffy returns and explains to Jerry that there's no way for him to pass. But a mouseketeer is always courageous, and Tuffy starts out again. He quickly returns, since Tom is still there. Tuffy leaves, sheltered under a helmet. When he discovers Tom there, he calls on Jerry for help. But Tom is knocked out by the helmet, and Jerry, on arriving, finds no one. Tuffy is sentenced to writing "A mouseketeer is brave!" one hundred times on the blackboard. Tuffy finally manages to get the letter to Lilli, who sends another back with him. Tom appears and fights a duel with Tuffy, who manages to get back to Jerry and give him the letter. Jerry reads it and writes another, which Tuffy is supposed to deliver. Noise is heard. Tuffy returns in a sorry state. Jerry writes another letter. Tuffy leaves to deliver it. More noise. Tuffy returns again, completely done in. Lilli's last letter, delivered by Tuffy, says: "Our love is finished." Tuffy, however, is no better off, for Jerry has replaced Lilli's portrait by one of Marie, his new ladylove. Tuffy leaves with a new letter. Tom challenges him, "En garde, en garde." But Tuffy, resigned, goes off into the distance.

notes:
Music - "Love That Pup" (Bradley)
This is the third time Tom acts as a cardinal's guard, while Jerry and Tuffy are King's mouseketeers.
----------

Smarty Cat - (6 min. 50 sec.) 1955

Tom invites his three cat friends to the house. The three cats (which include Butch) arrive, and the four of them organize a film showing. Tom chases after Jerry, who is also there. The film, shot by Butch, is entitled "Tom the Terrific Cat." Part One: "Lover Boy." Tom sees the white kitten and whistles in admiration. He hits Spike with a brick and kisses the kitten's paw, then Spike's paw, who has taken her place. All this time, he's been talking in his Charles Boyer voice. Tom, who suddenly discovers the truth, knocks Spike to the ground (excerpt from "Solid Serenade," 1946). Jerry has returned to the house. Tom starts chasing him again. Part Two: "The Dumb Dog." Tom wants to go fishing, but Spike is on guard. He enters the private estate. Spike mistakes Tom for a bone (excerpt from "Cat Fishin'," 1947). Jerry, who has returned, is chased by Tom's friend, the black cat. Jerry invites Spike to look at the next episode. Part Three: "New Leash on Life." Tom reads in the newspaper that from now on all dogs will have to be tied up. He plays around with Spike, who is attached, but who still manages to hit him with a baseball bat (excerpt from "Fit to Be Tied," 1952). Suddenly, Spike appears and chases all four cats out of the house...with Jerry filming the scene.

notes:
Music - "Love That Pup" (Bradley): "You Were Meant For Me" (Brown-Freed); "Milkman, Keep These Bottles Quiet" (Raye-DePauI); "That Old Feeling" (Brewn-Fain).
----------

Pecos Pest - (6 min. 35 sec.) 1955

Uncle Pecos, Jerry's uncle from Texas, arrives at his nephew's house with his guitar. He is soon scheduled to make his debut on television, so he rehearses before his show. He sings "Froggie Went A-Courtin'." When one of his guitar strings breaks, he pulls out one of Tom's whiskers, and then a second one. Tom is furious and Jerry and his uncle take to their heels. But nothing stops his uncle, who pulls out still another whisker. Tom dons the helmet of a suit of armor, but Uncle Pecos manages to tear out another whisker. Tom, who is attacked with an ax by the uncle, resolves to give him one of his whiskers. Tom and Jerry watch the rebroadcast of Uncle Pecos's number. He breaks one of his guitar strings as he plays. Tom begins laughing, but Uncle Pecos stretches his paw out of the television set and yanks another whisker out of the hypnotized Tom.

notes:
Music - "Love That Pup" (Bradley); "Froggie Went A.Courtin'" (arr. George "Shug" Fisher; guitar improvisation: Fisher)
Fred Quimby's name appears on the series' credits for the last time. From now on William Hanna and Joseph Barbera produce their own films.
"Shug" Fisher belonged to the group known as "Sons of the Pioneers." He had been seen in John Ford's "Rio Grande" (1950)
----------

That's My Mommy - (6 min. 3 sec.) 1955

An egg from a duck's brood rolls over to Tom's paws. The duckling hatches out of the egg and mistakes Tom for his mommy. "My Mommy, my dear sweet Mommy," he says. Tom, delighted by his luck, ties the duckling up, intending to roast him over the fire. Jerry steps in, rescues the duckling, and places Tom's tail over the fire instead. But the duckling comes back to Tom. The cat prepares a pastry crust, wraps it around the duckling, and puts him in the oven. Jerry steps in again and hits Tom on the head with a broom. The duckling revives Tom and gives him a kiss. Tom spreads fat over the duckling and puts some potatoes and carrots with him into the oven. Jerry opens the oven with a can opener and saves the duckling, who begins hitting him. Jerry shows the duckling a book in which there's a picture of a duck and a cat. The duckling closes the book on Jerry, flattening him. Tom catches Jerry, imprisons him in a series of boxes, and throws him down a well. But the duckling finally begins to understand...Tom wants to cook him. He is prepared to throw himself into the boiling water of his own free will. Tom, deeply moved, rescues him, and his tears turn into a torrent. The mouse comes out of the well and sees the duckling swimming about after Tom, who is behaving like a mother duck.

notes:
Music - "Love That Pup" (Bradley)
William Hanna and Joseph Barbera are now, for the first time, their own producers.
----------

The Flying Sorceress - (6 min. 40 sec.) 1956

Tom and Jerry are at it again. The mistress of the house, a young brunette, scolds Tom and makes him clean up the house with a broom. Dejected, Tom reads a want ad placed by an old lady who is looking for a traveling companion. He goes to the address given - 13 Sunnydale Road - and discovers a big, grim house, beset by thunder and lightning. He enters and finds a witch perched on a broom. She makes him take a ride through the air on her broom, cackling as she goes. Tom jumps off the broom. The witch catches him and hires him as her companion. Left alone, Tom mounts the broom, but is soon stopped by a tree branch. Jerry sees it passing across the sky and is amazed. But the witch steps in and makes Tom take a "trip," during which he's put through the mill. Tom wakes up and finds he's being shaken by the young mistress of the house. He was having a dream, with his head leaning against the broom. Tom sits astride the broom, which takes off into the air. The mistress of the house and Jerry watch him depart up into the sky!

notes:
Music - "Love That Pup" (Bradley)
Some shots from this film were reused In "Matinee Mouse" (1968).
Contrary to custom, the face of Tom's owner is in full view.
----------

The Egg And Jerry - (7 min. 50 sec.) 1956

This is a CinemaScope remake of "Hatch Up Your Troubles" (1949).

notes:
This is the first of three CinemaScope versions. The only changes from the original are the settings, which are simpler and more schematic, and the colors, which are harsher.
All features made after this are done in CinemaScope
The name of Fred Quimby has disappeared, and those of Don Driscoll and Dick Bickenbach have been added.
----------

Busy Buddies - (6 min. 15 sec.) 1956

A couple go out for the evening and leave their baby with a young baby-sitter, Jeannie. As soon as the parents have left, Jeannie gets on the telephone. Jerry, meanwhile, eats some cake, and Tom finishes off a watermelon. Tom and Jerry suddenly see the baby, who crawls across the sink and falls in. Tom catches him in the nick of time and puts him back in his bed. Jeannie continues her telephone conversation. The baby sets out again. He falls down into the cellar and starts crawling about amidst the pipes. He emerges completely black. Tom cleans him up, but Jeannie scolds Tom and throws a book at him, thinking that he's annoying the baby. The baby gets out of bed, climbs the staircase, goes prowling about on the curtain rod, and slides off. Jerry catches him. The baby gets out through the mail drop, into the big postbox in the street. Tom and Jerry open it with a can opener and retrieve the baby. They put him back in bed. The couple return. Jeannie declares that there's been no problem with the baby. Her only complaint is about Tom!

notes:
Music - "Love That Pup" (Bradley)
Filmed in CinemaScope
The characters of Jeannie, the negligent babysitter, and the roving baby appear for the first time in this film; they will be seen again in 'Tot Watchers" (1958).
The master and mistress of the house are completely visible; their faces are not hidden, as they had formerly been.
----------

Muscle Beach Tom - (6 min. 45 sec.) 1956

The scene is a beach, where several cats are exercising. Tom arrives with his kitten girlfriend. Tom puts his things down on top of Jerry, who arrived earlier. Jerry is annoyed. He's covered with trash. He's fed up and strikes Tom with a banana. Tom, enraged, first blows him up into a balloon, then throws him way out to sea. Tom is fascinated by Butch, an athletic black cat who then chases Tom away. Tom, hit by a mast, winds up looking like a crab. He decides to show his rival how strong he is. He gets caught between two metal disks. The kitten dances with Butch and Jerry. Jerry is dressed in a banana skin. Tom digs a hole and punches Butch into it. He then dances with the kitten, but Butch reappears and sends Tom flying into a trash can. Tom uses some balloons in order to pass himself off as a strong, tough guy. He attacks Butch with an anchor, which prevents Tom from flying off...He strikes Jerry, too, but the mouse unties the anchor, and Tom ascends into the air. Jerry shows off like a tough mouse in front of the white kitten, but gets crushed between two tomatoes.

notes:
Music - "Love That Pup" (Bradley)
----------

Downbeat Bear - (6 min. 22 sec.) 1956

Jerry comes home and turns on the radio and the music disturbs Tom. The radio announces that a dancing bear has escaped from a circus. His capture will be amply rewarded! The bear arrives and does some dance steps. He steals some fruit and eats it and Tom, seeing this, tries to telephone the authorities, but Jerry turns on the music-playing radio again. The bear rushes over to Tom and leads him into a mad dance. Tom turns off the radio, but Jerry switches it on. The bear still wants to go on dancing with Tom. Tom cuts the radio wire with a pair of scissors. Jerry puts on a record player and the bear dances a passionate tango with Tom. Tom breaks the record over Jerry's head. The mouse dances on the piano and begins playing the guitar. The bear falls into the cellar and the radio announces that the reward has been doubled. The bear reappears and wants to dance with Tom, but gets cornered by the daybed. Tom, now outdoors, turns off the transistor radio and throws it away. The radio catches on a tree branch and begins to play six hours of uninterrupted music. The bear invites Tom to dance, and the cat agrees.

notes:
Music - "Love That Pup" (Bradley); "La Cumparsita" (Rodriguez).
----------

Blue Cat Blues - (6 min. 48 sec.) 1956

Tom is down at the railroad tracks, bent on committing suicide. Jerry, who's there, too, tells us why. Tom and Jerry were inseparable friends until the arrival of a voluptuous white kitten. Jerry tried to restrain Tom, who became the kitten's plaything, but it was no use. The kitten had Tom push her to and fro on a swing. Then Tom acquired a rival: Butch, the black cat. Butch had also noticed the kitten. He kissed her and got rid of Tom, Tom's gifts seemed poor compared to those of Butch. Tom had spent every penny he owned for a car; he'd agreed to pay for it in 312 monthly installments, with interest at 112 percent a year; he'd pledged an arm and a leg, and twenty years of his own life. But all that meant nothing compared to Butch's luxurious car. Tom started to drink. Jerry had, nevertheless, managed to pull him out of the gutter. Then Butch and the white kitten got married. Such was Tom's sad story. Jerry observes, with satisfaction, that he'd never had this problem, but suddenly he sees the mouse he loves passing by...with her fiance'! Jerry is desperate, as desperate as Tom. We hear the sound of an approaching train.

notes:
Music - "Love That Pup" (Bradley), "I've Gota Feelin' You're Foolin' "(Brown-Freed).
----------

Barbecue Brawl - (6 min. 34 sec.) 1956

Spike and his son Tyke are preparing a delicious barbecue. Spike grills an enormous steak, which shrinks to almost nothing after cooking. Jerry, chased by Tom, hides amidst the coals. Tom searches for him and breaks everything as he does so. Spike chases him away. Tom pursues Jerry and falls into the pool. He hits Spike while looking for Jerry. Spike, furious, hits Tom with a shovel. From the shock of it, Tom seems completely confused. Jerry hides in the salad. Tom grabs him and falls into the salad bowl so Spike chases him away. Jerry hides in the pepper shaker and sneezes. He then hides in the bread, and Spike sees the bread moving, like a snake. Tom grabs the bread and hits Spike. He falls into the pool and comes out dripping. Spike and Tyke prepare to eat, but an army of ants comes along. The two dogs fall into the water, while the ants carry all the food away, including the big steak that Spike unsuccessfully tried to save.

notes:
Music - "Love That Pup" (Bradley)
----------

Tops With Pops - (7 min. 55 sec.) 1957

This film is a CinemScope remake of "Love That Pup" (1949)

notes:
The name of Fred Quimby, who produced the first version, is no longer listed in the credits. The names of Don Driscoll and Dick Bickenbach have been added.
Note also that the two dogs, Butch and Pup in "Love That Pup", are now named Spike and Tyke.
----------

Timid Tabby - (6 min. 49 sec.) 1957

Tom receives a letter from his cousin George, announcing his arrival and reminding him of his fear of mice. George arrives and is really frightened. Tom winds up a mechanical mouse. George is terrified, and Tom makes fun of him. Jerry comes out of his mouse hole. George sees him and immediately hits the ceiling. He turns to water and slithers down the drain. Jerry eats some candy. Tom hits him. George reappears and sees Jerry inside the television set, which has been set down right in front of his hole. Jerry makes horrible faces, and George gets terribly upset. Each time Jerry frightens George, he gets a blow from Tom. He no longer understands what is happening and soon sees himself chased by a double cat. Exhausted, Jerry leaves for a rest home for mice with nervous breakdowns.

notes:
Music - "Love That Pup" (Bradley)
----------

Feedin' The Kiddie - (7 min. 40 sec.) 1957

This film is a CinemaScope version of "The Little Orphan" (1949).

notes:
This is the last of three CinemaScope remakes.
Quimby's name is no longer listed in the credits. The names of Don Driscoll and Dick Bickenbach appear, and the four animators remain the same.
The little mouse, who was called Nibbles in "The Little Orphan," is now named Tuffy.
Mammy Two Shoes, who put in a very brief appearance in the first version, has now disappeared.
The sets are more stylized, and the colors are harsher than those of "The Little Orphan."
----------

Mucho Mouse - (7 min. 4 sec.) 1957

The setting is a Spanish town. Butch, a ginger colored cat, is playing the guitar while El Magnifico, a mouse (Jerry) dances and grabs a piece of cheese. The mistress of the house is upset about this. Butch has shown himself to be incapable of catching El Magnifico who escapes him each time. Butch ends up falling into his guitar. He tells his mistress "Nobody can catch him." The senorita shows him a telegram from Tom "Olympic, U.S. and World Champion Mouse Catcher," announcing his arrival. Tom arrives covered with medals and trophies He politely tries out a few words in Spanish, and the senorita leaves the house. Tom sees El Magnifico, catches the mouse and throws him out, but the mouse returns. While looking for him, Tom is shut out of the house. Tom changes into a bull, and El Magnifico becomes a bullfighter. Tom knocks him out. The mouse challenges him and makes him disappear inside his muleta and then Tom gets tangled up and ends up tied in knots. Butch hails El Magnifico as the winner. The senorita returns and discovers the two cats playing the guitar. Butch says, "What did I tell you? No one can capture El Magnifico." And meanwhile, El Magnifico steals some food.

notes:
Music - "Espana Cani" (Marquina; arr: Scott Bradley)
----------

Tom's Photo Finish - (6 min. 19 sec.) 1957

Tom escapes the vigilance of the couple who are his masters and goes off to devour the chicken in the refrigerator. The man discovers the partly eaten chicken and is furious. He insists on knowing who is responsible: Tom, or Spike the dog. Tom, sensing danger, traces dog paws leading to the sleeping Spike, and puts the chicken next to the dog. Jerry takes a picture of Tom as he's committing this heinous deed. The immediate result is that Spike is thrown out and Tom receives the chicken as a reward for good conduct. But Jerry shows Tom one of the photograph's many copies, and Tom now has to tear them all up. He tears up his master's paper, in which one of the pictures had been placed. He throws away other copies, and the master, now completely exasperated, wants to throw him out. His wife intervenes, but Tom has to swallow the cake she's been making, since one of the famous pictures was baked inside it. Tom makes fun of the unhappy Spike, who is still outside. While trying to destroy one of the photographs, which Jerry has launched like a little paper plane, Tom almost Cuts his master's throat. The master finally sees one of the pictures and discovers the truth. Tom is thrown out of the house, and Spike is allowed back in. Spike has the last laugh, as he sees Jerry's last photograph of Tom being thrown out of the house.

notes:
Music - "Love That Pup" (Bradley)
----------

Happy Go Ducky - (6 min. 24 sec.) 1958

It's Easter morning, and Tom and Jerry are fighting over an Easter egg, a present from the Easter Bunny. A duckling hatches out of the egg. He begins swimming in Tom's milk, then mounts the seahorse from the fish bowl, and takes a swim in the drinking water. Tom and Jerry find him a trifle too aggressive and shut him up in his box, but the duckling gets out. He takes a swim in the bathtub, then in the sink, shouting "Happy Easter." He sticks Tom in the behind with a knife and shouts "Touche, Pussy Cat!" Tom and Jerry, exasperated, put him back in his egg and send it to the Easter Bunny. But the duckling returns. He takes a shower and floods the house. Tom and Jerry put him in the garden pool. He meets some other ducklings, with whom he immediately strikes up a friendship. Tom and Jerry soon find themselves in a completely flooded house, thanks to the duckling, who opened the garden hose directly into the house. The house is invaded by the other ducklings and soon there are five: the gift duckling and his four friends - who all sing "Happy Easter" to Tom and Jerry, while enjoying a swim in the living room.

notes:
Music - "Love That Pup" (Bradley)
The original title of this film was "One Quack Mind."
----------

Royal Cat Nap - (6 min. 45 sec.) 1958

The king is quietly asleep in his bed. Two mouseketeers, Jerry and Tuffy, arrive and fall upon the food set out on the table. Tuffy breaks a cup, and the noise awakens the king, who calls for the cat. Tom arrives. The king warns Tom: "One more sound, and off with his head!" Tom is on his guard. Tuffy throws a vase Tom catches it. He also catches the dishes. Jerry spreads some nails around. Tom gets stuck and runs screaming out of the castle. Jerry dances with a suit of armor. The king looks as though he may wake up. Tom puts corks in the king's ears, and when he awakens, puts him to sleep again by playing the violin. Tom gets hit by an arrow shot by Tuffy. He screams out in pain. The king wakes up and condemns him to death, but Tuffy intervenes and sings "Frere Jacques" into the monarch's ear. The king falls asleep. Tom, Jerry, and Tuffy duel with swords. "C'est la guerre," says Tuffy, in French.

notes:
Music - "Love That Pup" (Bradley)
This is the last time for the mousketeers.
----------

The Vanishing Duck - (7 min. 4 sec.) 1958

The husband offers his wife Joan a duckling that sings "Good Morning to You." The husband and wife go out together. Tom returns through the chimney and sees the duckling. He swallows him, but the duckling escapes through Tom's ear, which he has opened like a window. He hides in Jerry's bed. Tom captures the duckling, but Jerry trips Tom up, and the duckling escapes. The duckling covers himself with cold cream and becomes invisible; he hits Tom, who has been threatening Jerry. Jerry makes himself invisible and Tom sees a number of surprising things begin to happen. The door opens all by itself, a watermelon is eaten, and someone puts a lot of pills on his tongue. He can t understand what is going on. Jerry and the duckling make Tom's tail invisible and take a false tail for a walk. They hit Tom and pinch him, and he's soon thrown out through the mailbox. Jerry and the duckling take off the cream and reappear. Seeing them, Tom now understands what has been going on. He makes himself invisible and pursues Jerry and the duckling, striking at them with a coal shovel.

notes:
The last appearance of the duckling
----------

Robin Hoodwinked - (6 min. 15 sec.) 1958

The setting is Sherwood Forest. Robin Hood, a prisoner in the sheriffs jail, is going to be hanged at dawn. "Nothing can help him, absolutely nothing," says the narrator. But Jerry and Tuffy are determined to act. They sneak into the castle and locate the cell door, but Tom the guard is there! Tuffy hits him with the cell key; then the two mice grab the key back again. Tom pursues them, takes back the key, and swallows it. Tom makes the mice fall into a hole in the floor. Jerry and Tuffy return while Tom is sleeping. Tuffy goes down inside Tom and takes back the key, but the string to which it was attached breaks, and Tom swallows both Tuffy and the precious key in one gulp. Tom drinks some wine, and Tuffy soon gets out through the mouth of the tipsy Tom. Jerry knocks Tom out with a club. Tom is chopped with a hatchet and Robin Hood succeeds in escaping, thanks to the key. Tuffy is carried off by an arrow, shot by Tom. Jerry starts running: He's carrying both the arrow and Tuffy.

notes:
Tuffy (Nibbles) appears tor the thirteenth and last time, twelve years atter his arrival in "The Milky Waif."
----------

Tot Watchers - (6 min. 28 sec.) 1958

The mistress of the house goes out to do some errands, leaving her baby with the baby-sitter, Jeannie. Jeannie immediately gets on the telephone. Jerry, running away from Tom, hides in the baby's carriage. Tom arrives but Jeannie chases him away. The baby runs away from the carriage. Tom puts him back, but Jeannie hits Tom, thinking he's disturbing the baby. Tom captures Jerry, but sees the baby still gallivanting about, crawling into the dog kennel. He rushes over, but instead of carrying away the baby in his arms, he takes a dog. He nevertheless brings back the baby at last, and Jeannie goes at him again, with a broom. The baby leaves the house, falls onto a truck, and soon lands in a construction site. Tom rushes over. He stands between two metal beams in order to block the baby's fall. The baby passes from one beam to another. He falls. Tom catches him. The baby falls again. Tom and Jerry land in a casting of cement. The baby beats Tom on the head. Tom and Jerry, exhausted, take the baby home. They are met by the police, who have been called in by Jeannie. They take Tom and Jerry away. The cop refuses to believe their story but he suddenly sees the baby disappearing down the street.

notes:
Music - "Love That Pup" (Bradley)
In this film, the baby, the couple, and Jeannie, the carefree baby-sitter, reappear. Spike makes only a brief appearance
This is the 114th and last film of the series begun eighteen years before. Tom and Jerry will, sadly, never be the same again.
-

-

-

-

-

I could never have accomplished this listing without the help of three tremendous works...
Tom and Jerry - The Definitive Guide To Their Animated Adventures by Patrick Brion
---And---
The Encyclopedia Of Animated Cartoons by Jeff Lenburg
---And---
Of Mice And Magic - A History Of American Animated Cartoons by Leonard Maltin
These books filled in the gaps of my memory and video collection and are worth purchasing if you have an interest in Animated Cartoons.







Thanks from: Randy Simcox
---